And so we're finally here, at the end of the EroPets Tournament. It's been a wild ride, and we finished much later than we planned, but here are the match reports for the final 3 sexfights of the tournament!
With scores even, Lucia and Michael were eager to nudge their team ahead in the final. After the usual preambles, the wrestling match begins!
With their master and mistress Romantic and Eva watching on, Lucia starts the match flying out of the blocks, throwing Michael down to the mat. Soaking up the hits, he responds by stifling Lucia into the turnbuckle with a kiss.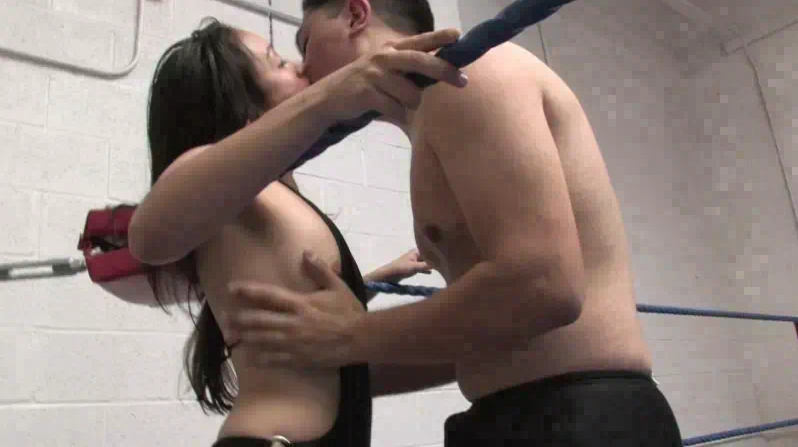 The back and forth between wrestling by Lucia and sexual moves by Michael continues, both jostling for position to execute their strategies - Lucia's cuteness hiding the fact that she's delivering some powerful blows against her opponent, causing Michael some pause.
The tables turn when Lucia proceeds to change tack, going sexual and lewdly snacking on a banana. Taking advantage of Michael's erection, she gets him on his back swiftly, using his face as a throne.
A short time out was called, and with our competitors both shedding clothing, Michael seizes the initiative with a schoolboy pin.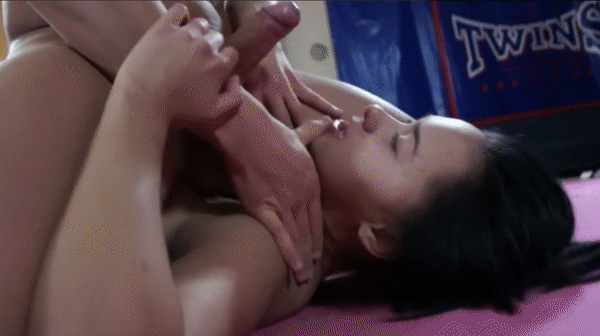 Things heat up as Michael maintains control, feeding his hunger and lust by snacking on his lovely opponent.
Lucia brings out her secret weapon though, and with Michael's cock trapped between her soles, the tide turns and Michael taps out, giving Lucia the advantage in this match.
The match devolves now into a mess of sexual moves, all wrestling forgotten as both attempt to push the other over the edge. Michael in particular bringing out elaborate moves such as the Tarantula Grind into play.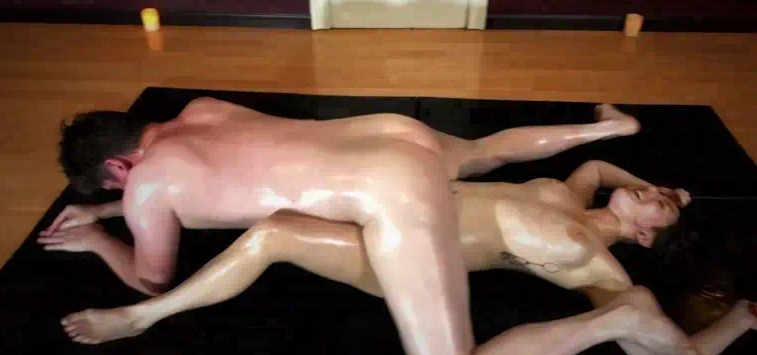 With Michael under Lucia and weakening her resolve with his tongue while Lucia works his cock, the battle of wills continues, and seizing his opponent, Michael mounts Lucia and takes her from behind, only to run out of steam and surrender more ground as Lucia smothers him with her breasts~!
Not giving up just yet despite Lucia's heavy advantage, Michael fights on, pinning Lucia down and fingering her roughly.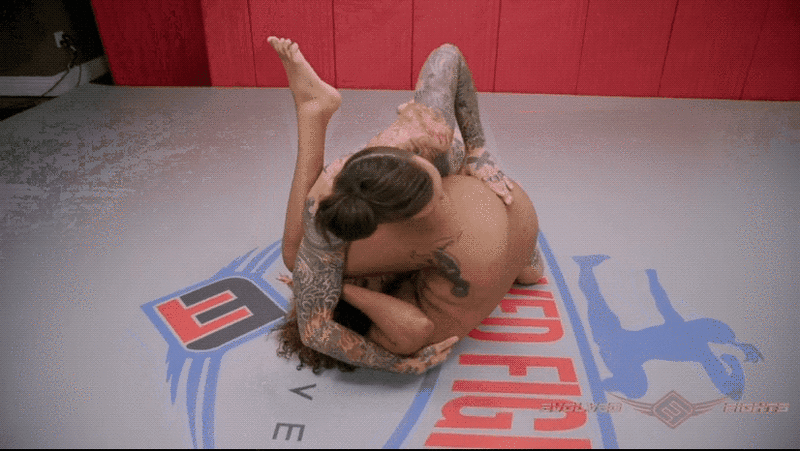 As things heat up towards the climax.... the bell rings!
Oh... it's the sex round...
After a brief break, our wrestlers get back at it, picking up where they left off - Lucia relying on her oral skills while Michael resorts to more direct methods, lifting Lucia off the ground and pounding her silly~!

For a while there, it seems like brute force was going to win out, with Michael going for Lucia's sweet rear...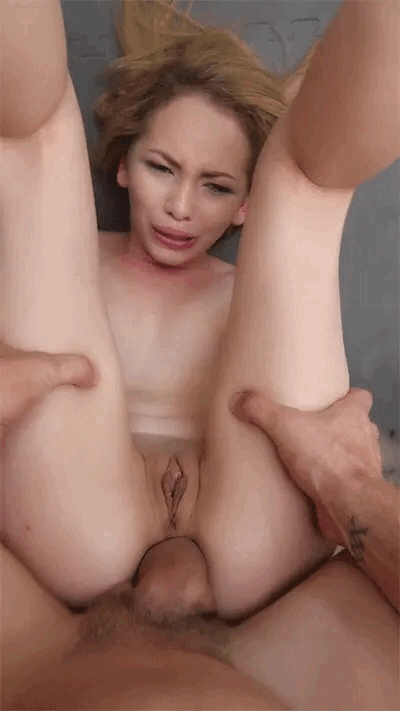 ...and resisting a pin attempt. Exhausted, Lucia taps out, handing the initiative to her relentless opponent.
However, it seems all that hard fucking has brought Michael to the brink, and when Lucia traps his cock in her mouth, it doesn't take long before his spurting his load once more~!
As both exhausted wrestlers break one last time before coming together once more, the tables turn, and its Lucia's turn to cum on Michael's tongue, leveling the match at a critical moment.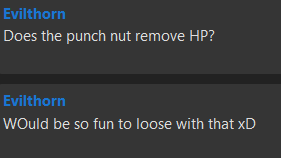 As the match goes down to the wire and the crowd discusses how the battle could be conluded, Lucia finally clinches it by running down Michael's HP to 0!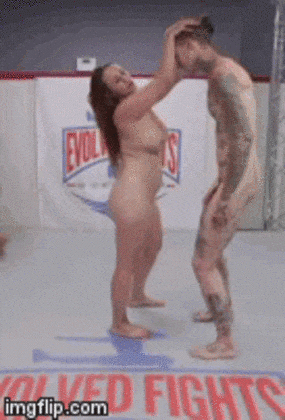 And with that, Team Romantic leads the way, with a 2-1 score! Meanwhile, another match was in full swing...
---
Not wanting to waste any time, Kathy declares that her opponent is about to lose and pounces, pulling Eva's shorts down and displaying some cheeky behaviour. The Demoness responds promptly by using her powers to bind and tie the cheeky foxy girl down, as well as gagging her. Keeping her bound and helpless, Eva kisses along Kathy's neck, getting just a taste of things to come.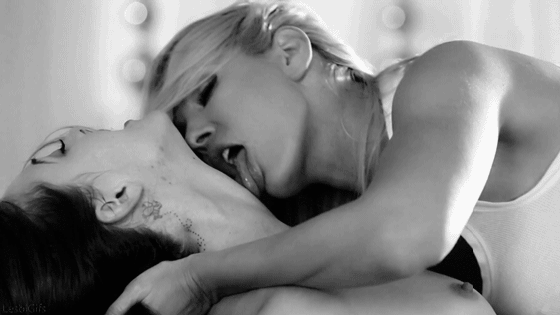 Freeing herself from the gag, Kathy kisses along Eva's thighs and wiggling butt, before finding her mouth filled with one end of a double ended dildo as they lock in a passionate deepthroat kiss. Breaking free from this embrace, she tries to gather her thoughts but instead gets teased to distraction as The Mistress sucks a lollipop slowly, showing just how wonderful her tongue can be. But in a flash, The Vixen had leapt over and pulled off Eva's top and bra, exposing her to the crowd. Eva uses her powers once more, this time to strip her foes' shorts off. Not stopping there, she then slowly pulls Kathy's panties down, exposing her wet pussy.
The teasing kicks into high gear as they both lose their clothes. As Eva shows off her ass, Kathy takes advantage of the situation and grabs a bullet vibe, pressing it against Eva's clit. But before Vixen can react, Eva takes a dildo she 'found' earlier and attaches it to a harness and starts fucking Kathy's wet pussy hard and deep, making her back into it as pleasure takes ahold in her mind. Pounding her harder, the Demoness gets off on Vixen's lewd moans as she futilely attempts to resist the pleasure coursing through her. As Eva touches herself, Kathy pounces and pushes the aggressor down, stealing the dildo back and returning the favour, slamming it into Eva's pussy and making her moan just as loud.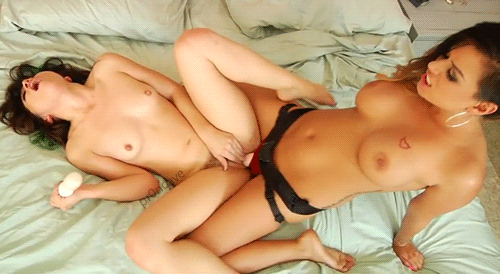 Managing to slip off, they each take a moment as they promise one another that thet will make their opponent cum first. Within a flash, Kathy has the dildo in Eva's ass and uses it to weaken her resolve. But it doesn't stop Eva from slapping a collar on Vixen, making her blush hard. Keeping the pressure up, the dildo in Eva's ass works overtime, making her moans louder and lewder. Switching tactics, Kathy holds Eva down and fingers her, giving her ass a short rest as she keeps the dominant lead. But the Demoness gets a friend to double team her, fucking both of her holes and reversing her fortunes. This doesn't last long though, as Vixen gets the strap-on back and fucks Eva's ass once more, slamming into her harder than before.
At this stage of the game, Kathy starts losing her focus as the horny takes over. But with good reason. She was, in real life, stuffed full with Lovense toys and had the crowd pressing all her buttons, driving her wild with lust and desire. It translated well in game as she slows down her fucking and starts losing focus there as well. Eva takes the chance and starts fucking her ass in a full Nelson with the strap, making Kathy scream. Her mind a haze of bliss, Kathy manages to use her own magic to make copies of herself to dive in and hold Eva down, touching, licking and fucking her as the real Kathy eats her pussy with wild abandon. Despite her best attempts to resist, Eva cums hard from the brutal and sensual attack!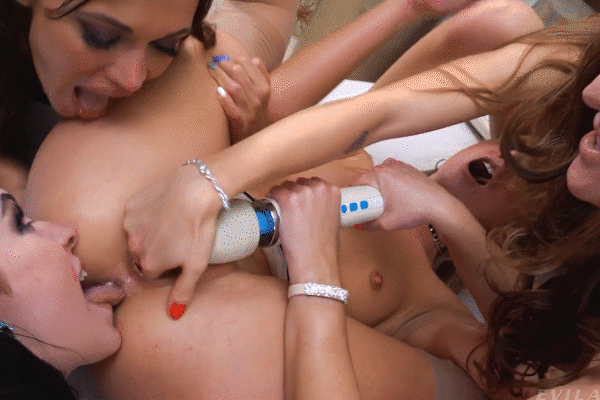 Kathy takes some long breaths and tries to calm down whilst she has a chance as Eva recovers from her orgasm. But she may have took a second too long as Eva grabs a strap and fucks her hard, slapping her ass in a hot attempt to make her cum. With her brain almost mush from pleasure, you'd think Kathy would gush in arousal but she resists each thrust as she screams in ecstasy. Using her tail, Kathy takes a bullet to Eva's clit and uses the chance to get off the strap in her pussy, trying to maintain herself as she handles the waves of pleasure. Eva poses provocatively and Kathy strikes, fingering her. Eva clearly loves it but wants the win more, putting Kath in position and scissoring her until she cums her brains out, covering them both in squirt.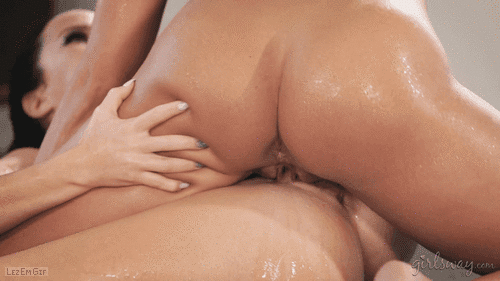 It's all down to one last orgasm, one last moment. Eva doesn't stop for breath, strap-on fucking Vixen hard and rough. Vixen pulls the strap away from herself and her foe, pushing her down and scissoring her wildly, both to make her cum and to make her pussy throb with pleasure. The cum attempt misses its mark and they masturbate together until Kathy tries once more to break the demoness, fucking her with the strap as her tail teases her clit. Using all her strength, Eva resists and flips Vixen over, riding her strap just as hard. They touch and tease themselves, both on the verge of insanity with pleasure. Kathy fingers Eva hard, whispering deliciously in her ear, telling her to cum as the audience goes wild at the sight of them locked in battle. After what feels like an age, Eva finally succumbs and her pussy pulsates as she orgasms all over Kathy's fingers.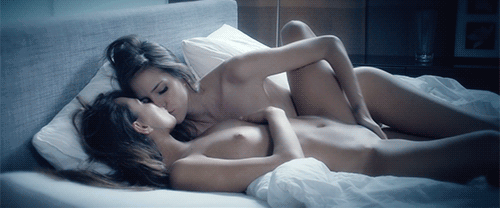 Kathy makes the pot sweeter as she cums IRL and can barely form a sentence after falling into such a lustful haze. Eva may lose only once but it sadly costs her a lot as is knocked out of the tournament as Kathy takes the win and enjoys herself whilst she's at it. This leaves only one last fight to decide who wins the EroPets tournament!
---
For our final fight, we see Amber and Charly meet for the first time. Having some lovely pleasantires exchanged, Charly shows her determination by exposing Amber's gorgeous tits to the crowd and for all to admire. Amber just shows herself off all the more, twirling around. Enjoying the view, Charly slyly manages to get a strap-on into Amber's mouth, making her suck it to demonstate her skills. Whilst she's down there, Amber pulls her opponent's shorts down as she sucks, then pulls away and exposes her tits, so each fighter is on level footing. They taunt each other as they both proclaim that they will make the other submit, before Amber takes Charly's panties off. As they tease and taunt more, Charly ends up fucking Amber's mouth with a Strap-on, making it somewhat hard for her to trash talk. She turns the tables and pushes Charly down, fingering her as she sucks her nipples. Charly then pays her back in kind. They begin to get lost in each other, tasting their nipples and pussies in equal measure as they do battle. Amber gags Charly with her own panties, thus giving her access to her wet pussy. With the chance in sight, Charly grabs a dildo and fucks her pussy hard.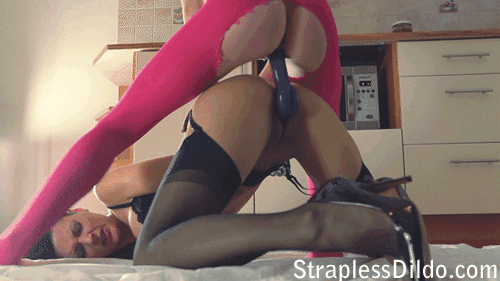 Moaning as she takes it deep, Amber pulls off after a short while and starts fucking and vibing Charly, making her feel it just as badly as she was just made to. From there, Amber has a friend tagteam her, using Charly like a sex toy as she moans in pleasure. Yet she somehow breaks free and gets between Amber's legs and licks her pussy, catching her off guard and pushing her over the edge and into orgasm, cumming all over Charly's face!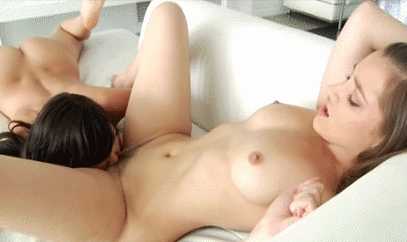 Amber quickly bounces back and fingers Charly to a fierce ruined orgasm, immediately putting them both back on a level playing field, with absolutely everything to play for. The next orgasm will decide who wins EroPets...
Taking a breather, Charly revels in the orgasmic bliss for a moment, then strap-on fucks Amber into the bed, claiming her as her own. This doesn't sit well with the kitten, so she has her tag teamed again. Regardless, Cathy greedily rubs her clit as she is first tag teamed, then fucked on her back by a Strap-on, still rubbing away as Amber keeps fucking her over and over. Despite how deep and rough she took it, Charly didn't break under the assault. Instead, she fingers Amber hard to try and break her, yet Amber proves her strength as she resists such pleasure.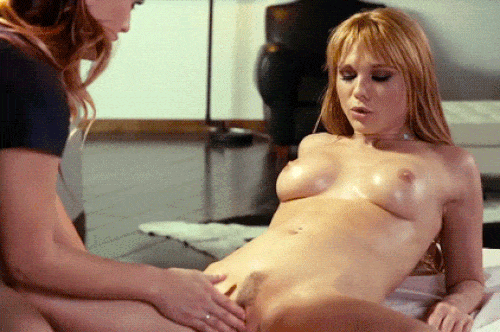 The end is near. Our sex fighters can feel it. The audience can feel it. The next test might just be the last. They take a rest for energy and Amber strikes, giving Charly amazing Cunnilingus to push her over the edge. With either sheer determination, she resists and immediately moves to scissor Amber and wreck her pussy with orgasms... but Amber resists as well. At this stage, I'm starting to believe in some sexual higher power. The continue the battle, which is slowly escalating into war, fucking and fingering each other relentlessly. Soon, Charly has Amber under her and fucks her with a Strap-on, not stopping until she makes kitten scream. After such a long duel, Amber can't hold back anymore and cums on the strap inside her!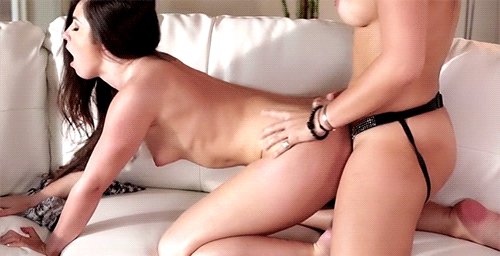 The fight is over and Charly takes the win for Team Romantic. Such an insanely hot battle, it was truly an amazing match to bring EroPets to a close!
---
With that, EroPets finally climaxs and spills its load... that load consisting of huge congratulations to Romantic and his original pet, Kathy. He is awarded with the unique "True Master" badge, whilst Kathy earns the "Startet Pet" badge. They also get 100 EF coins and a signature move for the mode of their choice.
An immense thanks also must go to those that were claimed as pets for Team Romantic. So congratulations to Amber, Lucia, and Foxy. They gave it all and made Romantic proud. For such loyalty, they can hold their heads up high... and also get 30 EF coins on top of the bargain.
An uproar of applause for Eva for losing only 1 battle. You fought valiantly (and so very sexily) and we wish you the best of luck for the next tournament you fight in.
Thank each and every one of you for taking part in this amazing tournament. And thank you Clara, for setting it up and making it happen in the first place. Go to our Reddit page to see more in depth details of the tournament and the punishment recap, which has to be one of the best parts, right?
Until next time, I've been TG, you've been sexy and I extend a big thank you to Winston and Brooke for helping me with this post as well.
Stay kinky, folks.