Hunting season is upon us
Dear friends of nature!
With the classic tournament in full swing with all of its excitement, it's easy to miss the season that is almost upon us! Summer is at our doorstep.
The temperatures rise, the skirts get shorter and the underwear is left in the closet for a good reason. Some may also call this: Hunting season!
Several sorts of pets start to roam the different habitits...ehm...habitats of Erofight city, trying to quench their hunger for sexy fun and animalistic pleasures. The masters leave their winter quarters as well and start to pick up the trace of their prey, hoping to catch the hottest and most obedient spoils for themself. Some may even go for the disobedient, bratty kind of subbies, trying to tame a wildfang that will crown their collection. What better a time to kick off the next tournament of Erofights!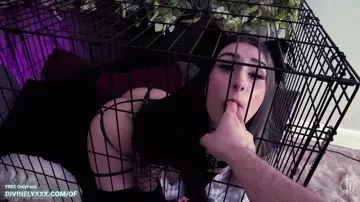 So without further ado: EroPets Tourney is back!
So what is EroPets, what will happen and what do you need to partake?
EroPets is different to all of our other tournaments, as it's an asymmetrical event. With this unique setup we aim to give all players a special setting for great and sexy roleplay, a stage for all the hot powerplay that's possible between masters and pets, dominants and submissives!
In EroPets, each team of two players will compete for the title of Eropets champions. One player as the master/mistress, one player as the pet. Unlike other tournaments a loss will not result in the elimination of both players from the tourney because only the master/mistress will leave the competition if beaten and has to deliver their devoted (or bitey, if they haven't tamed them properly yet) pet to the victorious team.
This new team of three will face the next winner team until only one master/mistress remains, all the sexy and willing pets on their leash.
If you think that it's already spicy enough – well...then you are dead wrong, dear huntsman!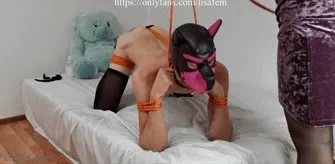 Since pets need to be given both a purpose and a good motivation to try their hardest and win their matches for their owners, there will be punishments for those who cannot constrain themself from the sweet relief of orgasm.
So if a pet loses, there will be real life edges to deliver. There will be spanking, there will be use of toys and yes we mean it so you better learn to enjoy it and take it for your team. ;)
But don't run in shock and hide in your den. Of course we will handle the stated rules in the best tradition of Erofights. Nobody will be forced, every pet will be allowed to chose from a wide array of different punishments so nobody has to feel overwhelmed. We will also post the final punishment list in the forum and feature it in one of the upcoming blog posts.
So what do you need to participate?
You must be willing and able to organise the match times with all opponents yourself. Also we expect you to post logs and reports about punishments in the respective threads in discord autonomously.
You must be willing to play ALL genders! Since every team can mix and match however they desire, we will definitely see matches between two male and/or female competitors. You can do so by playing as bisexual or create an alternative character of the opposing gender.
You must be okay with a bit more dedication and commitment due to the nature of the tournament to make it fun for all participants. Real life bets are not everybody's cup of tea so be sure with yourself before you jump the gun and into your masters net. 😉
In the next feature we will check the sling traps I placed at prominent places of Erofights city. Maybe a sexy pet from the former tourney is willing to reveal some of the many sexy details we have in store for you.
A big thank you goes to Benji who was kind enough to proof read for me. :)