Lesbian Wrestling Tournament: Roundup #2
As Wednesday comes around, I saw two logs, begging me to read them and see what erotic action had taken in place in what is shaping up to be a sensational tournament. So let's catch up on how those matches went and see who has progressed to round 2!
First up, we have Erin Quin Vs Miss Jenna.
Not even a minute into the match and Jenna charges at her foe, knocking her down and locking her into a Single Leg Boston Crab hold, setting the momentum for the fight. Forcing her off, Quin retaliates with a strong Bearhug Lift, crushing Jenna with sheer strength. Jenna is able to counter fast, letting the show hit the road as they get into each other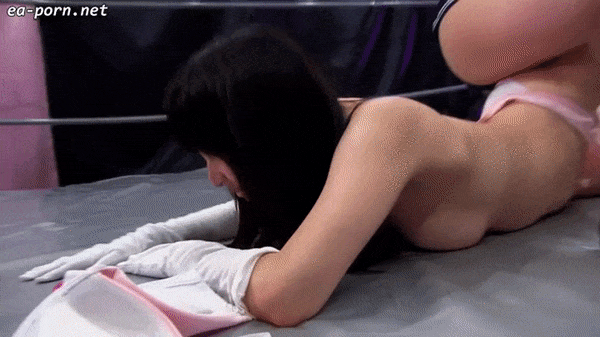 Some powerful moves were utilised as they began wearing each other down, with arm holds and triangle chokes on full display. After taking a bit too much, Erin taps out and takes a minute of hard, rough strap-on fucking as her penalty. Holding back her moans, she returned the favour by grabbing the strap and using it on Jenna. As both our luscious ladies go at each other, neither of them show signs of backing down or tiring out. Despite that, they each take a strategic break before lunging at each other, with Jenna finding herself in trouble as she finds herself under assault, trying to hold back an orgasm as Erin licks and sucks her pussy. Alas, this was to no avail, as Jenna cums hard from this surprise attack. However, this just leaves Erin pent up, letting Jenna even the scores as she gets her into a rubbing pin, sending Erin over the edge, with no hope of resisting this earth-shaking orgasm!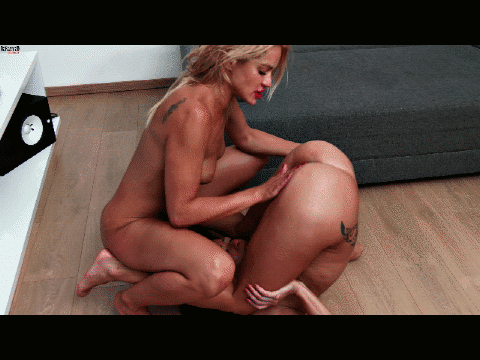 You'd think Erin would be floored after that but one quick breath later and she has Jenna on all fours, slapping her ass as she fucks her doggy-style, driving her to yet another orgasm. Not enough to wipe her out, but enough to put her in a tentative position. Not one to back down, Jenna tries to pin Erin in place, using her fingers as they kiss. Seizing initiative, Erin flips her over and takes control, locking Jenna in place and fingering her hard and fast. Unable to hold back, she cums hard all over Erin's fingers, squirting on the mat, unable to go any further!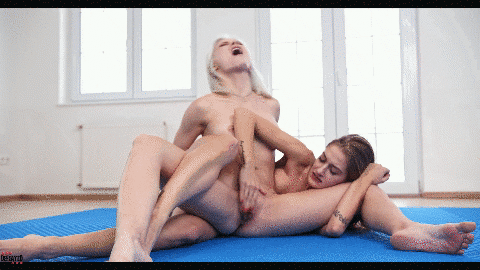 Taking the victory, Erin sits on Jenna's face, pinning her and counting her out, then releasing that pent up energy as she rides her face to orgasm. Erin moves into round 2 of the tournament as we prepare to see the next match-up!
---
The second fight was The Mad Countess Vs Bimbo Ariana!
Setting the stage in her wonderful fashion, Sasha introduces them both as they come down the walkway and into the ring, ready to show each other what they got. Sasha has yet to win a tournament match, so both victory and pride are at stake today!
As the bell rings, Sasha immediately makes Ariana lose her heels. Apparently style matters, even in wrestling. Once those are gone, she puts her opponent in a Camel Clutch, which is quickly switched as Ariana traps Sasha in a a Single Leg Boston Crab. After some hot pussy rubbing from both parties, Sasha tries putting Ari in her place, calling her a Jobber as she rubs her pussy some more. Feeling the pleasure, Ari takes a dildo and puts it in Sasha's ass, much to her surprise. Ari tries to fuck Sash into orgasm but misses the mark. After toying with her some more, Sasha starts scissoring her foe as she is pinned down, taunting her as Ari moans in bliss. Not able to fight it, she cums hard as Sasha keeps thrusting into her!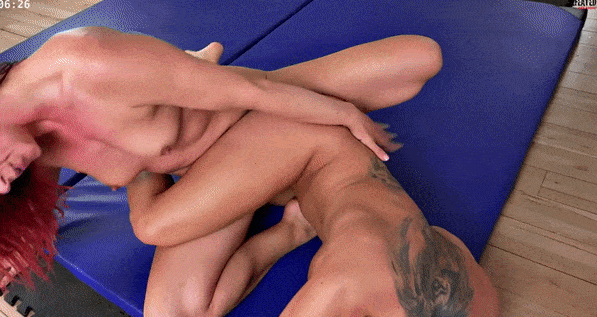 After recovering from the ordeal, Ari fights back and holds Sash down, fingering her as she licks her nipples. Bucking into her fingers, Sash cums on her fingers, yet still asserts dominance, calling her opponent a good girl for making her cum. Taking a break, Sasha seems to determined to make Ari her little ring Jobber, as she pulls out all the stops to torment her rival. Having the wonderful Seductress help her dominate and strap-on fuck the now tired Ariana, she tries to recover some form of energy but is unable to keep Sasha back. Locking her in a pin and rubbing her pussy, she makes Ari cum hard one more time, destroying her energy reserves and ending the match!
But that's not it for the audience, as Sash indulges everyone in some post match domination of her broken Jobber. Tying her to the ropes, facing the crowd, Sash lets the beloved audience decide her fate. They decide to see if they can make her squirt with a vibe and fingers, leading to Ari finding a vibe taped to her clit as Sash fingers her from behind, being told to hold her orgasm until she is told otherwise. After some hot stimulation, Ari sprays the crowd with her final orgasm!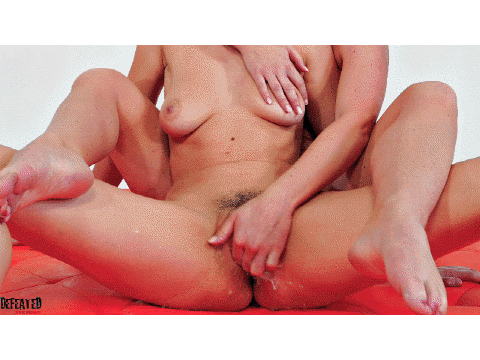 With this win, Countess Sasha wins her first ever Tournament match and progresses to round 2!
---
With no more matches scheduled until after Wednesday, I shall take my leave and await some more hot logs as we see who rises and who falls in this epic tournament!