As fighters book their place in the final and get ready for the fights of their careers, let us take a moment to reflect on the battles that have taken place.
To see more of the tournament details, be sure to check out our Discord and Sub-Reddit for announcements!
Having fought before, Hitomi seemed confident that this fight will go much the same. But Erin surprises her as she runs out of her corner and tackles her foe down, sitting on her face to pin her down. A fantastic start to the fight!
The smack talk is strong with these ladies as they wrestle each other down, break free to adjust some clothing and hair, then back down again, rubbing each other's pussies as they go at it. They both get worked up as the pleasure starts to build deep inside, struggling to focus on keeping the pressure on each other. Getting nastier, Hitomi responds to getting spanked by power-bombing Erin right into the floor. Shaken up but not phased, they keep things rough as they strip each other, throwing their bras to the audience.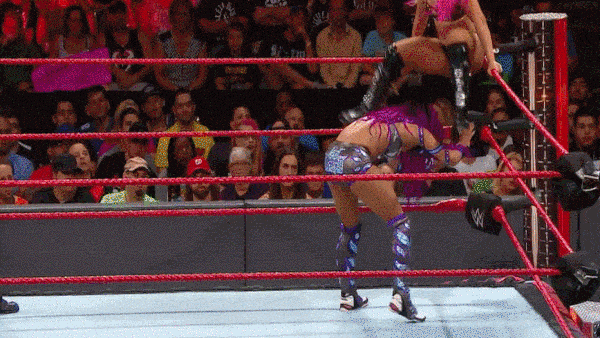 Things heat up when fingers slide into pussies, fucking each other fast to try and create a distraction. And a chance to strike. Soon after they take turns strap-on fucking each other, Hitomi thrusts hard and deep, making Erin cum all over the mat. Composing herself, Erin is almost lost in pleasure as her chest is toyed with, until she snaps back and fucks Hitomi in hard anal doggy with the strap, forcing an orgasm from her opponent!
Starting to feel the fatigue, they carry on trying to make each other submit, until Erin finds herself tag teamed dominated by Ori from the crowd, fucked senseless by two strap-ons, draining the last of her reserves. Desperately horny, Erin engages in a pussy battle with Hitomi, needing to fuck her badly. Hitomi seizes the moment as she is handed a vibrator, pushing it against Erin's wet pussy, making her cum hard, squirting all over the vibrator!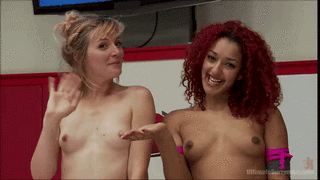 Unable to continue, they kiss and cuddle in the ring as Hitomi takes the win and progresses to the next round!
---
Both of these fighters have waged wars to get to this stage in the tournament and now these two titans must do so again to secure that coveted place in the final. Shirley needs to pull out all her moves to keep a hold of the LWR title belt she still has in her possession!
As they take their places in the ring, Huhu seems to think that this will be an easy match well deserved after her last two fights. Shirley isn't even phased as she tells Huhu that this fight won't be easy and that she also isn't going to win. She then starts by donning a strap-on and slapping the teacher right in the face with it. Talk about not holding back!
They soon get down and dirty, with Huhu quite enjoying rubbing Shirley's pussy through her panties, before ripping each other's bras off and exposing their boobs to the crowd. As they grapple and play with each other, Hu taps out and is forced to take a deep and rough fingering, feeling her pussy get wetter by the second. But once she has the chance, Hu strikes back and gets her rival on the top rope, giving as good as she got by fingering Shirley fast.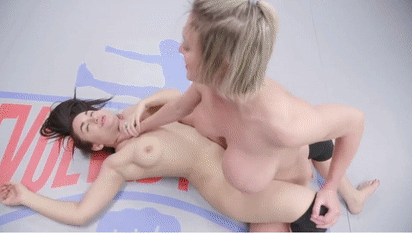 The match gets truly heated as they dominate each other with strap-ons and fingers, neither of them backing down as they get lewder on the mat. Soon both fully stripped, they start calling in help from their allies in the audience, using them to distract and arouse as they save what energy they can in between fingering and fucking. Taking a chance whilst being fondled, Hu fingers Shirley once more, this time bringing the teacher to a loud and shuddering orgasm. But the move may have been strategic, as Shirley now takes control, forcing her opponent to ride a strap-on hard, followed by pushing her down and finger fucking her to an intense orgasm that left Hu shaking!
Teacher goes on an all out offensive, keeping Hu down and bending her body, trying to make her tap. Despite feeling every inch of what is done to her, Hu doesn't break. But now she can barely catch her breath and hasn't uttered a word since that mind-breaking orgasm. With no choice but to take it, Huhu lets Shirley fuck and toy with her body, until she finally has the strength to fight back, managing to fuck Teacher back with her own Strap-on. With a huge push, Hu has her foe in the corner, eating out her pussy until Shirley cums all over her face!
Playing it smart, Shirley recovers from the orgasm almost alarmingly quickly and pins Hu down, flashing the vibrator that was used earlier in the fight, the same one that failed to get Shirley's third orgasm. Turned on to max power, it finds itself pressed against Hu's pussy and clit, making her quiver and cum all the mat.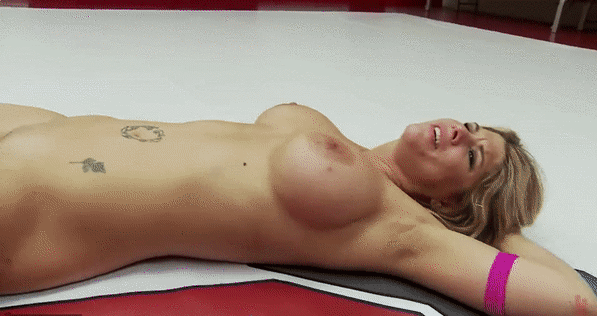 Left exhausted and beaten, Shirley moves on to the finals AND retains her belt in another stunning title defence!
---
As the victorious combatants prepare themselves for the finals, I feel that we will all need to take a moment and save up our own energy just to watch it unfold. If it has as many twists and turns as this last match alone has had, we will need to pay close attention as we await the final matches of the LWR Tournament of 2022!