TOYS!
Hello there people of EroFights! My name is Neko and I have gotten a decent sized toy collection and, well I figured I'd have a list of most of the toys I have at my disposal :D
Let start at the basics and move our way down the list, be prepared for a few pictures and even more fun tales (hopefully)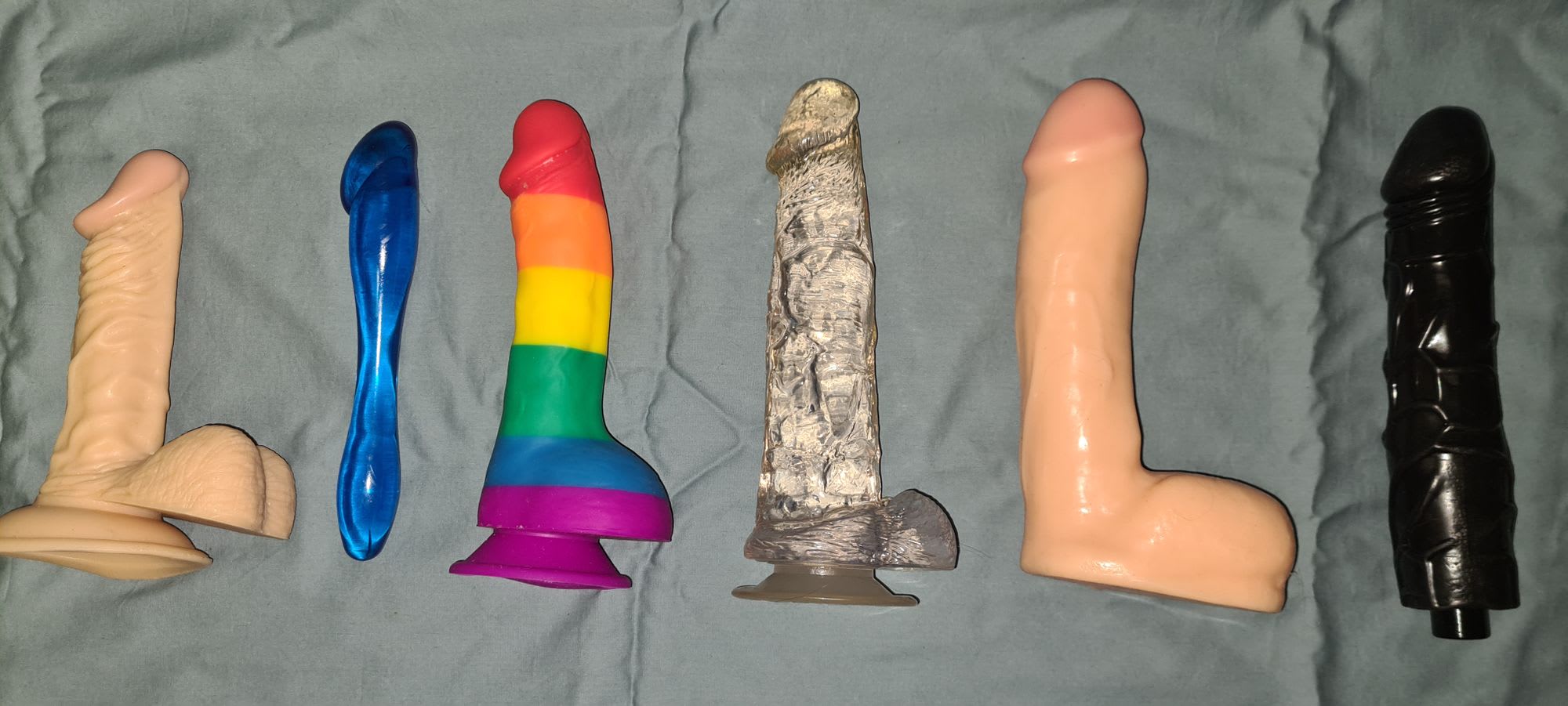 From left to Right
1: Small Natural colored one with suction cup
2: Blue anal probe (don't remember the name of it)
3: Rainbow Pride
4: Clear
5: Squirting one
6: Vaccu Lock Black Dildo
Now, when it comes to dildos everyone have their own preferances and each one of these are used for diffrent things, and for diffrent moods
With the dildos out of the way, lets get to the next part; PLUGS!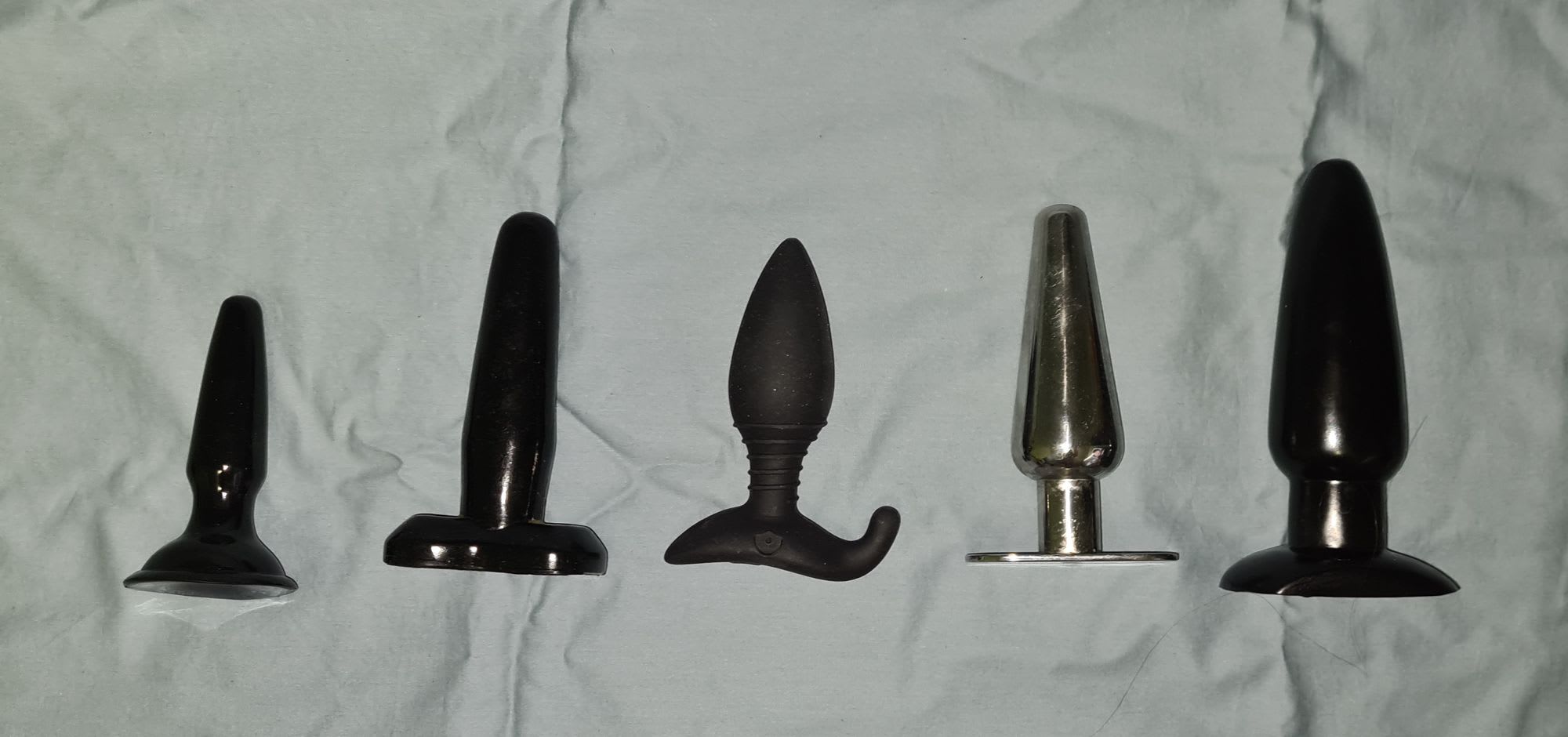 1: Smallest with round base
2: Bigger but (HA) no good wide point so it likes to escape
3: Lovesense Hush
4: Metal Heavy duty one :D
5: Biggest plug I have
Plugs are fun, very fun at some times, the metal one is great for warming up or cooling down, the Hush is remote controlled and very NICE.
but since this blog is more about the pics, and less about the content, time for GAGS!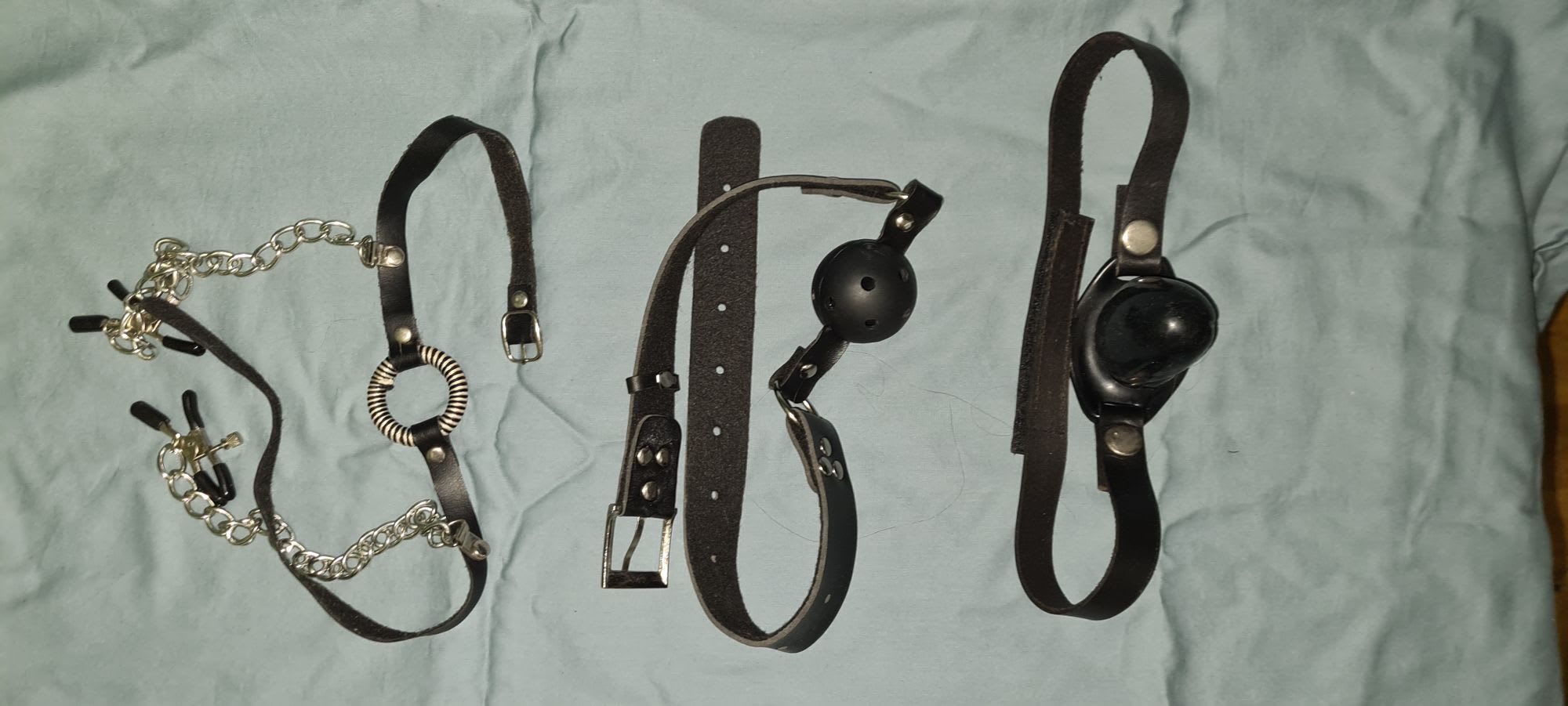 1: Ring Gag with clamps, These were my first gag I ever bought and it's good enough... but these days I'd make sure to not buy one with such a flimsy strap.
2: A classical Ball gag with holes for breathing (and leaking :/), This is the current fav that I have.
3: A short Dildogag, it doesn't even go past half the mouth (Be safe people!) I do love this one, it's an amazing one and it closes my mouth fully...
Soo of my gags, all does the same thing decently, aka getting me to drool, but some do it better than others, and well the first one, is the worst of the bunch, the ring is small, and covered in cloth so it's meh, but with all the holes sorted, lets continue to Restraints!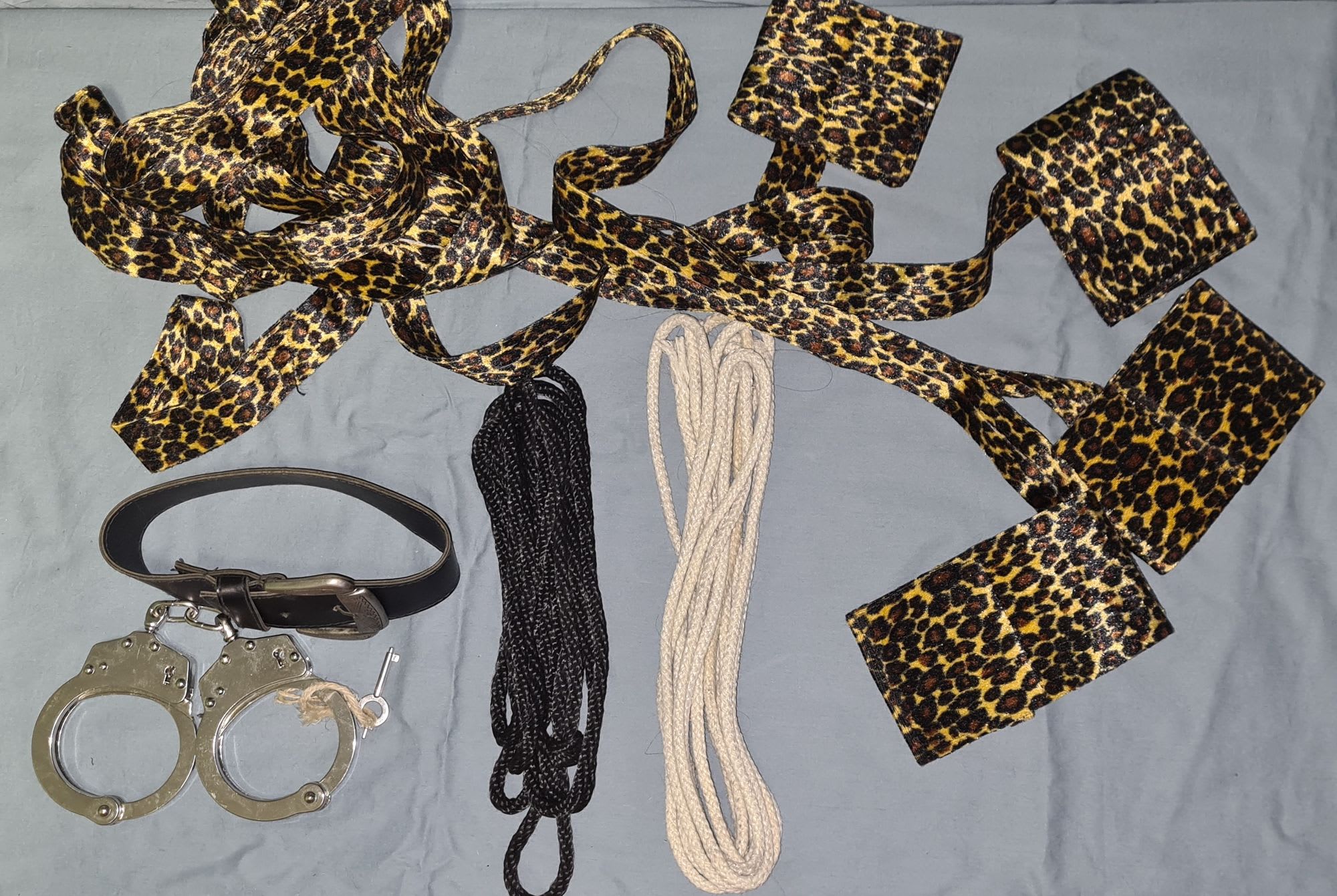 Okay, so these I will describe instead of numbering them, cause well they are all over the place :p
Leopard pattern ARM and ANKLE restraints, these are good and they do the job, velcro fasteners so one could use them for selfbondage.
Old discarded belt converted to Collar, when you don't have anything else, IMPROVISE!
Metal Handcuffs: Now... these are horrible rigid and very hard to use the with anything else, and I don't know how well the picture shows it, but I have the key on a string connected to them, since, well - SAFETY OVER EVERYTHING.
Black and White Ropes, your normal ropes to tie yourself down with, remember to use as much surface as possible per knot!
Well now that we are retrained, got a gag in, being plugged from either a dildo or a plug, lets check what else we can do to make ourself hornier ;)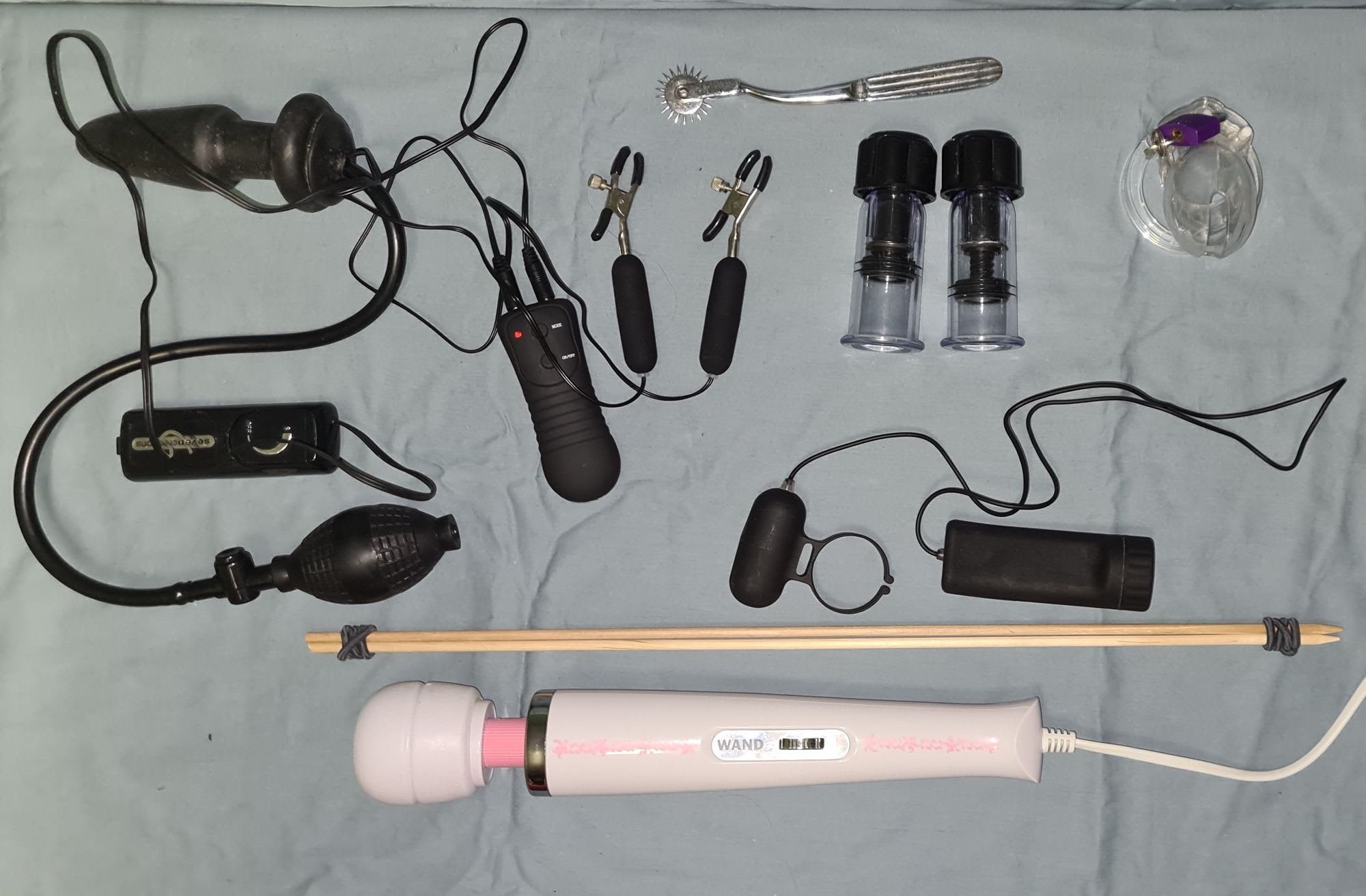 The Vibrating thing here, from left to right (and discarding the bottom one)
1: Vibrating Anal Inflatable Plug
2: Vibrating Nipple Clamps
3: Vibrating Cock Ring
At the bottom: Hitatchi Style Wand
Metal thing at the top, Wartenberg Wheel
Nipple Suckers are under that
CB6000s in top right corner
And lastly, over the wand, 2 flower pot sticks connected with hairties (Improvise!)
Okay, so I know here are a couple of things that aren't fully vibrating, but I didn't have that many things that are, mostly cause well my hand works well for some things, and others aren't as fun :/
Lets skip to my favorites, CLAMPS :D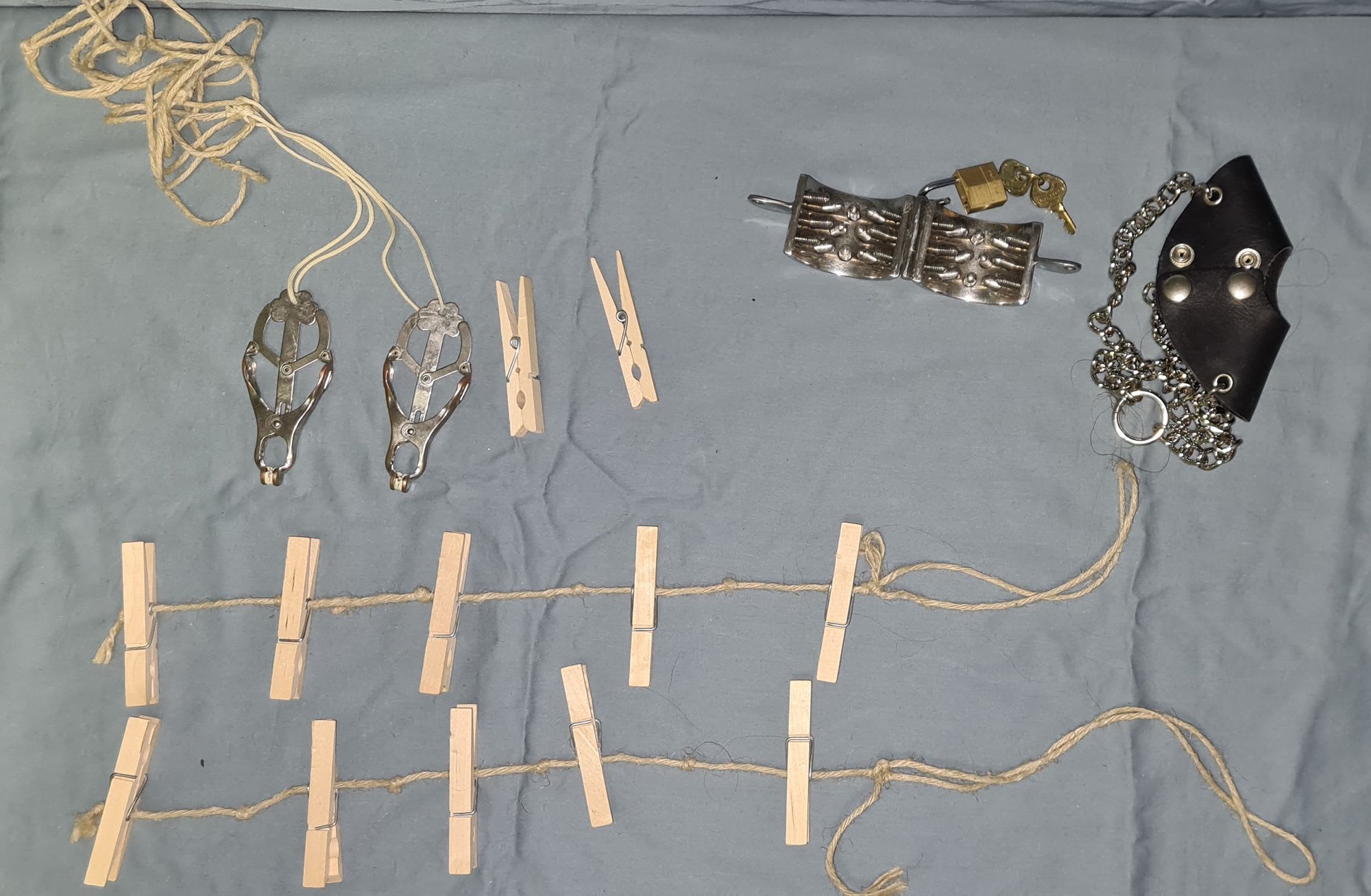 Japanse Clower Clamps (these are amazing, I can't recommend these enough)
Clothpins, Don't ever thing these can't be evil, just leave them on for enought and then wait until you take them off ;)
A Zipper multiple pins connected with a string/shoelace anything really to make it so you can pull them off in one sweet motion.
Top Right Metal thing: A spiked metal tube that is evil :D
Top Right Leather thing is a Ball Parachute, great for pulling on the balls without tying them up, quick on quick off ;)
PHEW, we are almost done, just 3 more pictures I think, so lets do IMPLEMENTS.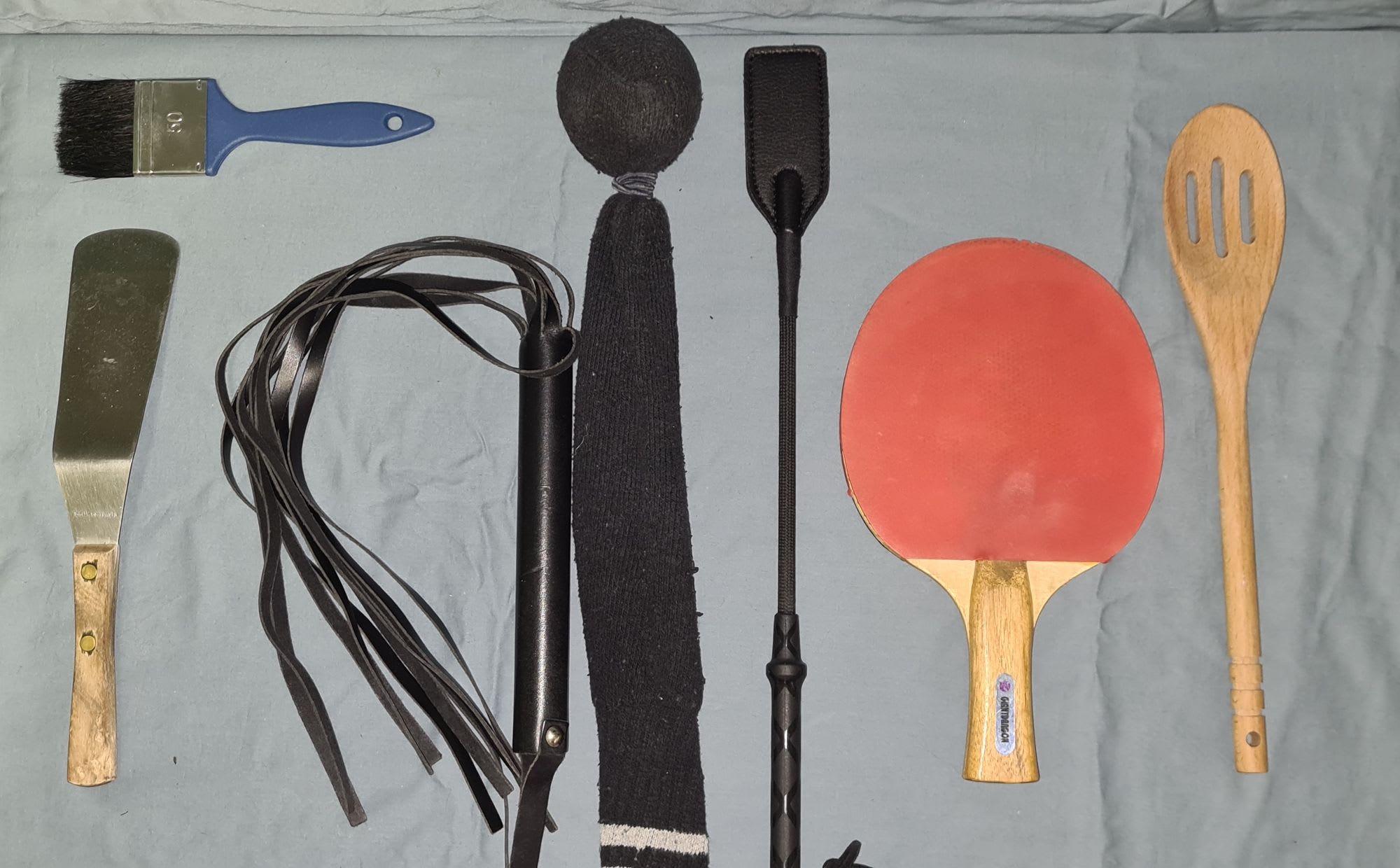 1: Paint brush, it's intresting, lets say that.
2: Metal Spatula (Since I can't use it for cooking anymore I can at least use it for cocking!)
3: Cat O'Ninetails
4: Tennis ball in a sock! (IMPROVISE, ADAPT, OVERCOME!)
5: Crop mmm
6: Ping Pong Racket, diffrent side gives diffrent sensation.
7: Wooden Spoon, Honestly the kitchen has soo many tools one can use ;)
And now, we are finally at the end, just 2 more pictures, but they have almost nothing in them: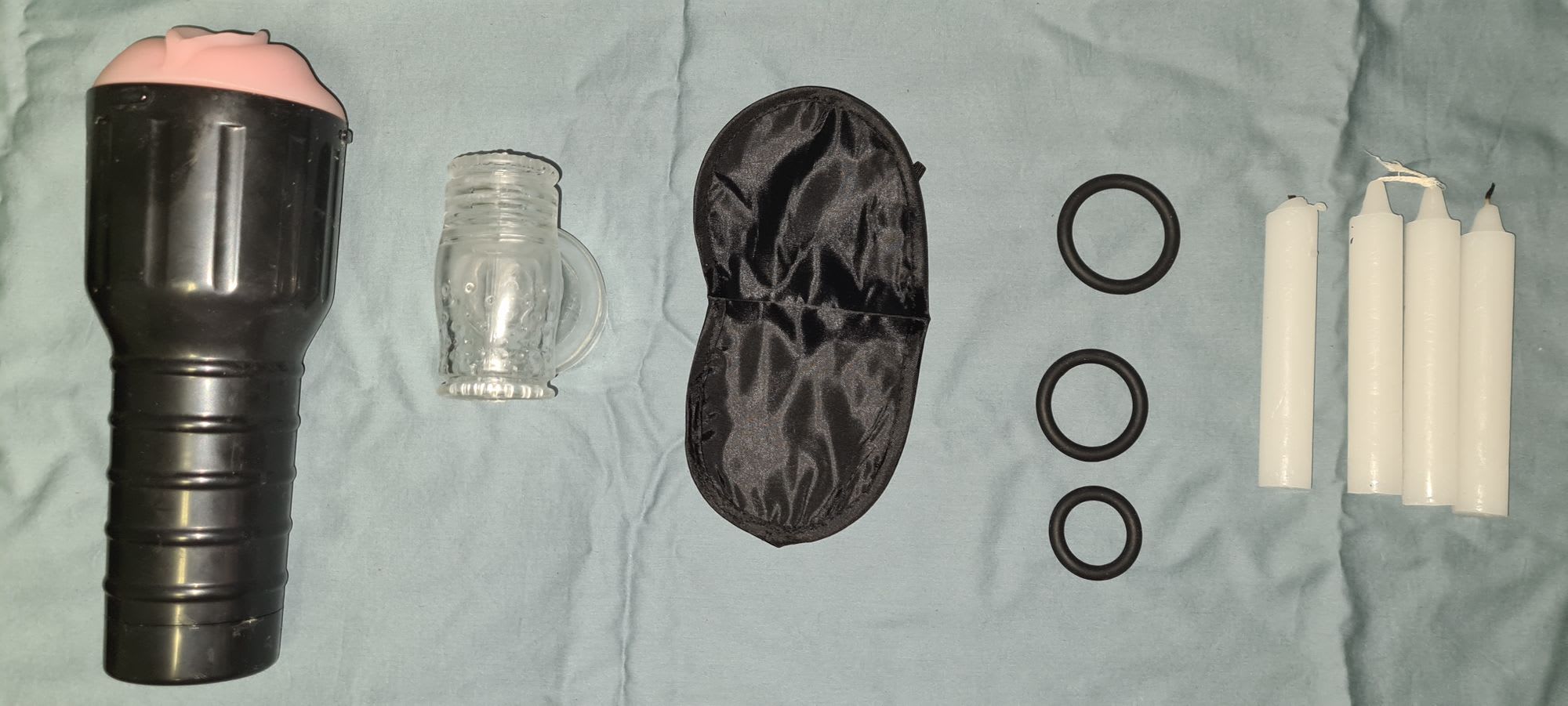 1: Fleshlight
2: Cocksleave for wand
3: Blindfold
4: Cockrings
5: Candles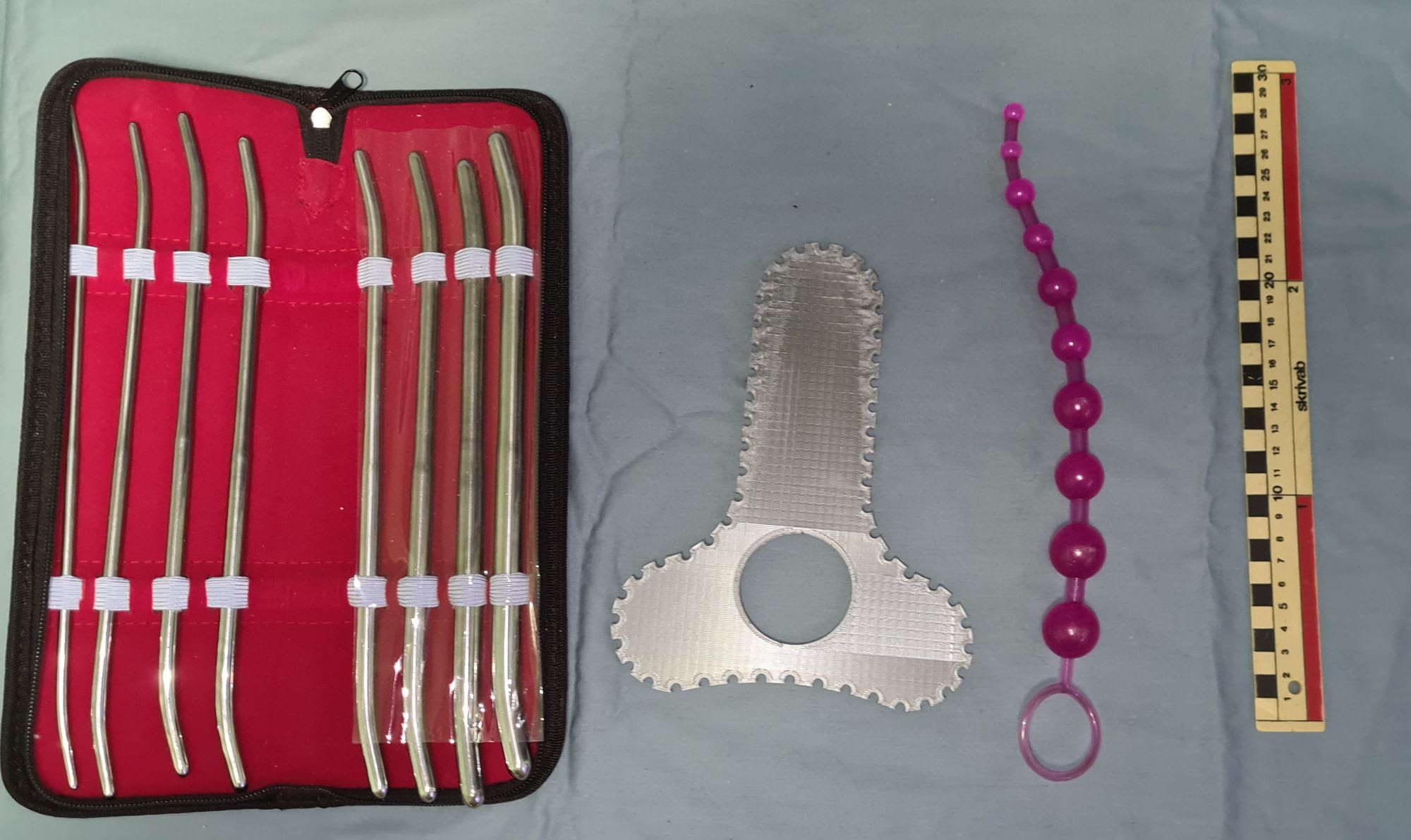 1: Uthrea Sounds
2: 3D Printed board for tying cock and ball up
3: Anal Beads (just missed these during the plugs picture)
4: Ruler, Metric (Same as the anal beads, forgot about during that picture)