Improve your EF experience by connecting your Lovense toys! 🎉
For the third anniversary of EroFights, we've decided to go a step further into our partnership with Lovense ! 🥰
For three weeks, and three weeks only, you'll be able to go buy yourself a toy with a huge promotional discount of 55% thanks to the link https://www.lovense.com/r/2xlyrw , graciously given by Lovense 😉 And yeah, obviously, you'll support EroFights by buying some toys 💝
To celebrate the occasion, we've gone further than ever in the Lovense integration with EroFights! 🎉
Improving the connection to the toys
Many of you have been having issues with the toys, so I've decided to improve it by re-coding the connection system with EF to be able to handle all manner of situations and software! It's been live for a few weeks now and works like a charm, handling both Lovense Connect and Lovense Remote applications (the latter is superior, but more on that later 😉), and able to work both in your local network, or though a QR code! Tutorials for all of the connection modes will be at the end of this article.
More game modes will activate your toys!
For a while now, beats and timers have been activating your toys, but more and more game modes will be taking full advantage of that! From now on, expect some high vibrations, patterns, and all features of your toys to be activated when you are in a game! Sceptical? Just get in a game of Bad End Battle and get fucked until your mind goes blank, and if you can, come back and tell us about it 😉
No need for a Lovense link anymore!
You heard me very well! From now on, if you have always found beats, commands and shivers too complicated, you won't have to share a link to the lovense app with your partner anymore, as a full control slide bar will now be integrated directly into EroFights UI for you and your partner to use and enjoy.

New commands for maintainers 🤓
Because obviously, nerds need their share of commands to get you to cum, I've added a few commands in game. Just type /lovense to get started, it will help you get your partner teased in the best way, because vibrations are nice, but when you can have pumping, rotations and patterns, why restrain yourself? 💥
Furthermore, maintainers are now able to get some actions to show up only when some toys are detected, so you might see some brand new actions when connecting your toys!
A brand new Lovense pack
Yeah, we're crazy 😋 And your can thank our awesome maintainers who created a brand new pack of actions specific to Lovense toys! 30 actions and 52 images for your pleasure! And you know what's best? It's free! 🤑 Just head to https://www.erofights.com/act_packs and activate it for your characters 💝
And of course, shivers!
You've grown to love them, and I understand you, they are definitely the best way to enjoy your toys with an audience! Set up your toys, enter a public game, and just wait for the public to hit you! The more people click on your toy next to your profile pic, the more it vibrates. Enough to get you crazy with attention, right? 😏
And now, the tutorials
Because sometimes it's not simple 😵‍💫
You can now use both the Lovense Remote and Lovense Connect app. However, I'm sorry, but both have their share of bugs. Depending on your phone, version, or network configurations...some things work, some other don't.
To test it, you can go to https://www.erofights.com/lovense_tests/new and test these solutions on EroFights to see what's best for you ❤️
Notice that I mentioned that there is two apps for your toys: Lovense Remote, and Lovense Connect. Try to always check the wording here, it is important :) Always use only one app at the same time. In the past, the Lovense documentation even said that you should only have only one installed at a given time.
Lovense Remote in local, the best (theoretically)
Go into Me > Settings > Game Mode, and turn it on. If everything is fine, you should see an IP adress, some ports, and the option to connect your toys. Make sure your toys are connected and just stay on this screen. Reload your EroFights page, or re-launch the test (you might need to wait a few minutes after turning it on, reload a few times). If your local network is compatible, EroFights should just catch your app, and everything should be working fine ❤️
The QR code
If the local network failed you, this is your next best shot! Both Remote and Connect have an option to scan a QR code. With Connect, it's pretty easy, it's just in the tab "Account". In Remote, though, you have to be connected to your Lovense account. Then, it's in the top right corner of your main screen (+ ; then "Scan").
Scan the QR code shown in the EroFights test page using your phone, or by clicking the pink logo at the top of your chat window in EroFights. Once done, it should pick up your toys, and you should be ok to get going!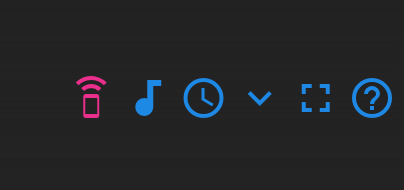 Lovense Connect in local, for vibrations, but no new functions
By just getting your Lovense Connect app on, you should be able to connect your toys the same way as the the first method (Lovense Remote in local). However, if you use this solution, EroFights won't be able to use any new functions, like patterns, rotation, or pulses.
You're connected!
You might have to try different solutions from above, but surely one will work for you 😏 If it does, EroFights should automatically show you the following screen, to help you setup your toys: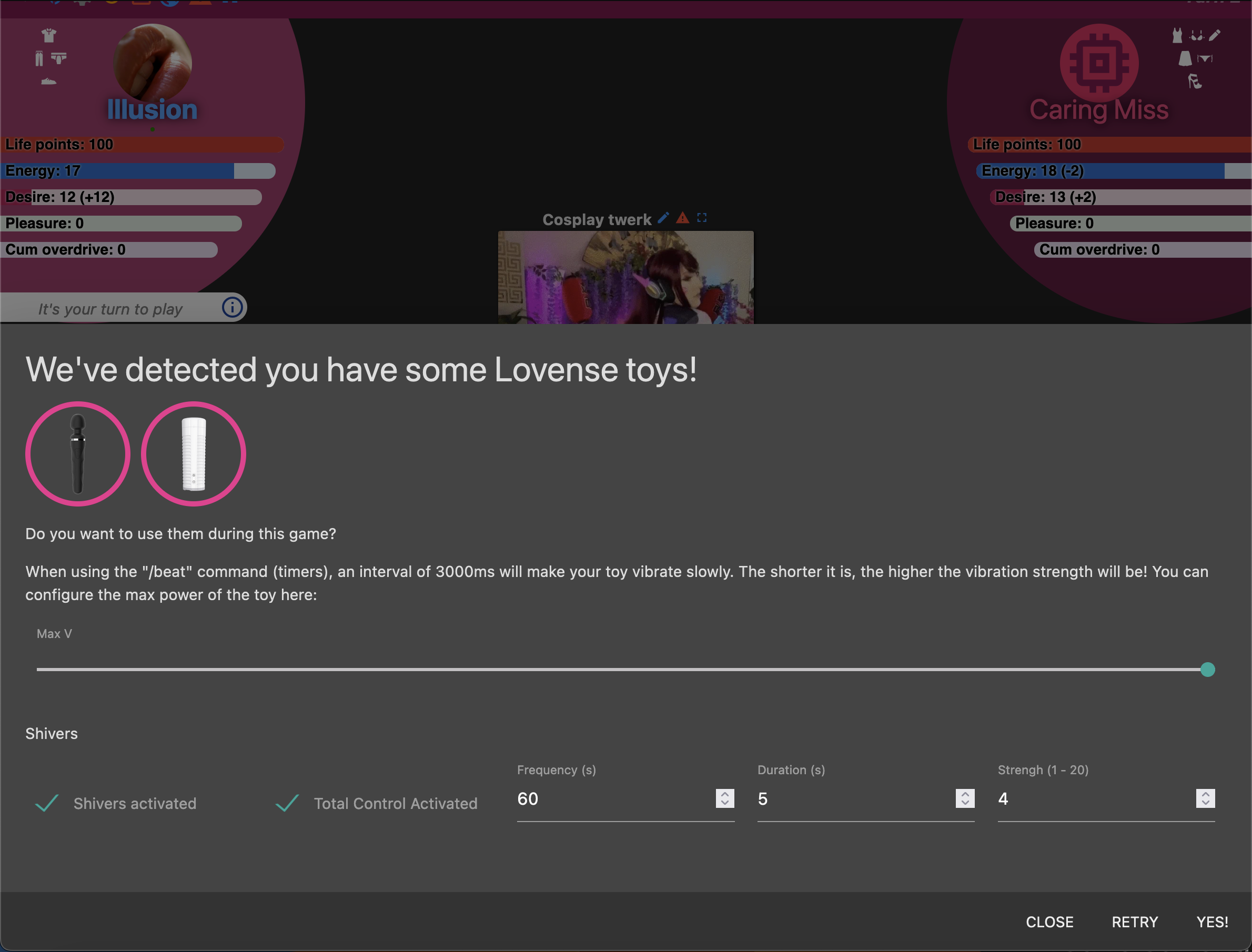 You're...still not connected? Don't worry, I can help ❤️
Supporting multiple connection styles, with different apps, versions, and errors coming from every side can be painful and buggy. If you don't succeed to make any solution above work, just go to https://www.erofights.com/lovense_tests/new, run the test, write a comment, and submit your report. I'll try to see if I can help you with your toys 😊