With the introduction of scenes, Hentai JOI action creation is now simpler. Here's a guide to HJOI action creation. I also suggest you read lllusion's guide. Some things said here may change, but the basic rule when making a new action is to compare it to the existing ones.
If you want to submit or enhance an action...
Where to find pictures
• When it comes to websites, I've used Danbooru, Gelbooru (which is blocked in several countries), Sankaku Complex (watch out, the picture links from there are temporary!) and Yande.re. If you're looking for gifs, one tip I can give you is using the "animated" tag (Danbooru has a 2-tag limit, so don't try it on there).

• If you've found a picture that is too low quality, try SauceNAO.

• If SauceNAO and the other links it suggests (Yandex usually works the best) don't help, try Waifu2x or VanceAI (which generates a watermark that you can easily get around by expanding the image on the bottom left corner and cropping afterwards).

• I'm not a fan of using mp4, so I convert them to webp with ezgif.
What pictures to use
• Except for the "Hi" actions, don't use pictures with only guys in them. To not have 4 versions of every action, I made the Dom side always set to "All", so you can't know what gender the Sub is playing with. As many gals on here are bi (or don't mind girl pics) and only a few guys are strictly homosexual, I don't think it's a big issue.

• I don't use any 3D pictures/gifs and I'd suggest you don't either, for consistency.

• Also, if you have lots of pictures, please follow this hierarchy:
Grayscale > Low quality Pics > Low quality Gifs > HD Pics > HD Gifs.

• Try to use pictures similar to the ones already used in the same action, especially for "Abstract" actions: there aren't a lot of actual edging pictures for example, so use pictures as related as possible (see 5899 and 5901, naughty gestures), but you can also choose arbitrary pics ; just try to use similar ones (see 9834, 9835, resp. booba, thighs).
How to word the instructions
As most instructions are Switch x Switch compatible, I suggest you don't use too harsh words like "slave". Let the Doms do it in the chat ;)
If you want to maintain the mode...
Scenes
There are different action types, which are marked by Scenes (They are case-sensitive!).
A Dom x Sub game will go like the following:
null → Teasing → Coming → Came → Teasing
A Switch x Switch game will go like:
null → Teasing → Choice → Coming → Teasing
Final actions are set to → Teasing because the "Replay" action removes the scene, while "Continue" keeps it. This makes it so "Hi" actions don't appear again after pressing "Continue".
General Actions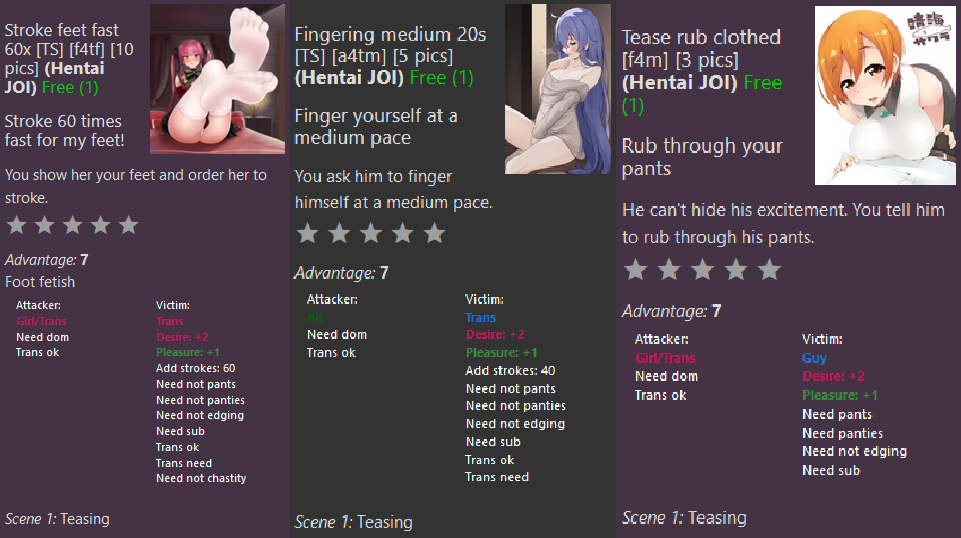 These actions can be used no matter the matchup. To name them correctly, choose the right category (Remove, Wear, Tease, Position, Stroke, Fingering, Masturbate, Edge, etc...) and then add tags from what you believe to be the most important to the least important (see the examples above).  
They add D+2, P+1 to the victim like every other action of this type.
Dom x Sub Actions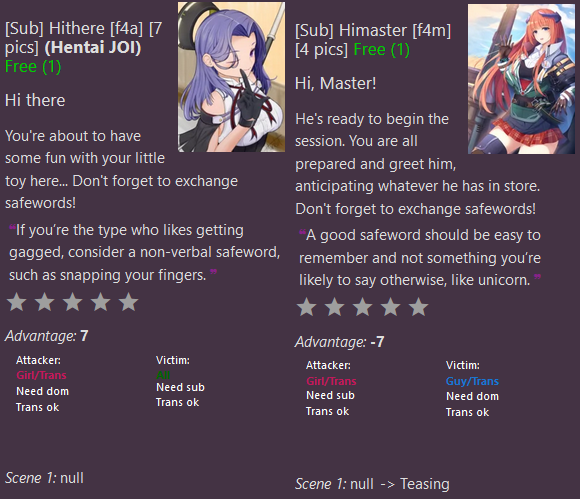 These are the Dom x Sub "Hi" actions. In HJOI, the player who starts the game is randomized, so if the Dom gets the action first, the Sub will also say hi, so only the Sub action switches the first scene.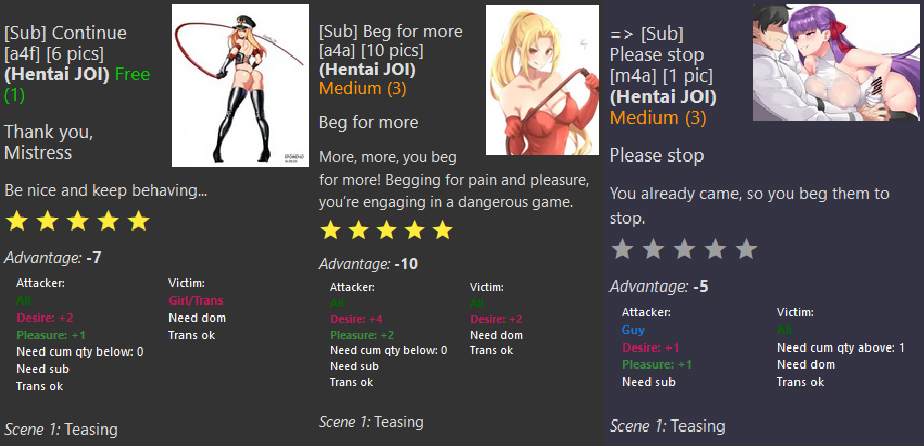 These are specific to Subs in Dom x Sub. Note that begging (Beg for more / Beg to cum) increase the Sub's stats more than the other, but increase the Dom's desire, which allows Pain/CBT actions to appear (see Actions tagged with Pain).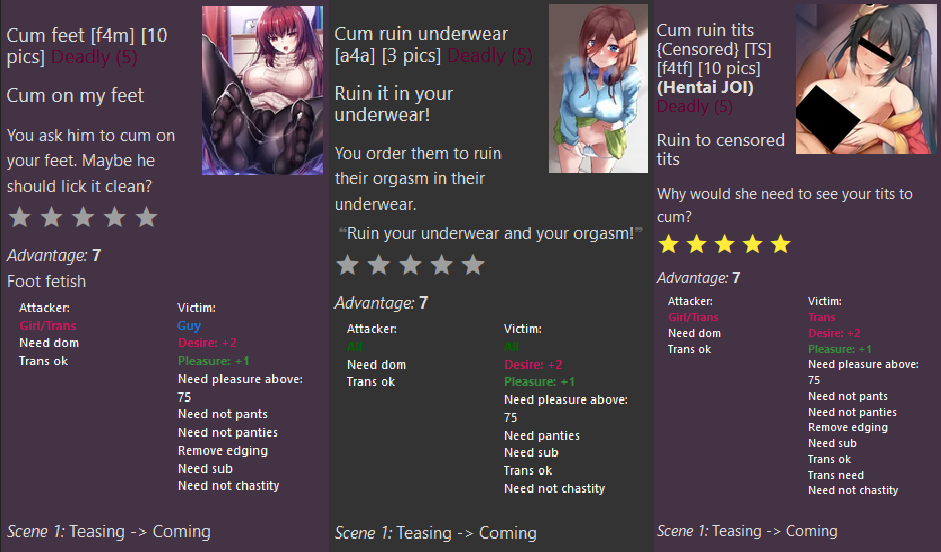 These are the "Cum" actions, exclusive to Dom x Sub (I'll describe the Switch x Switch system later). They require pleasure above 75.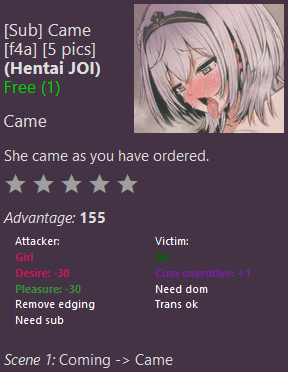 These are the "[Sub] Came" actions. They increase the Dom's cum overdrive by 1 (it works as an orgasm counter for the sub). They decrease the Sub's desire and pleasure by 30 to avoid people spamming orgasms and farming XP ;)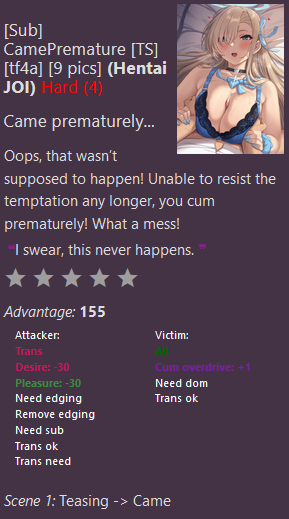 These are the "[Sub] Came Prematurely" actions. They change the same stats as regular "[Sub] Came" actions but require being on the edge.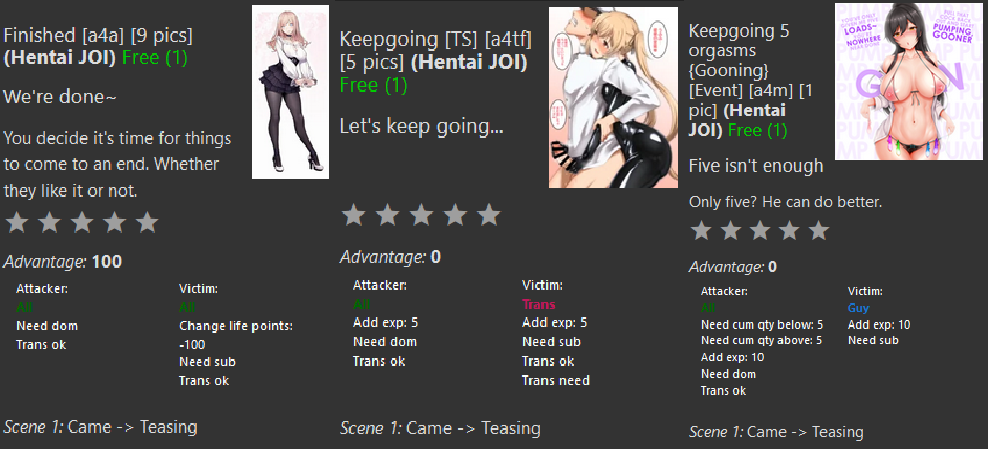 These are the Dom decision part. They can choose to end the game (-100 HP) or continue it. I thought giving a bit of XP for "Keepgoing" would be fair because it's like restarting a game, albeit a shorter one.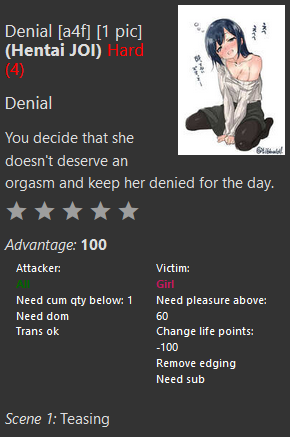 Switch x Switch Actions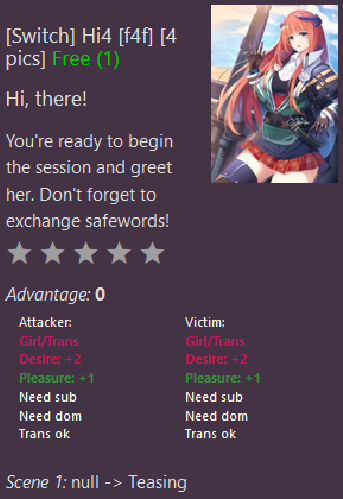 This is the Switch x Switch "Hi". Changes the scene to Teasing, and increases both players' stats.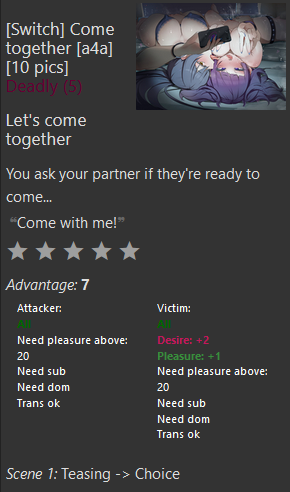 This is the first part of the Switch x Switch orgasm process. I set it to require 20 pleasure from both sides, cause that happens around round 40, which is approximately the same as in Dom x Sub.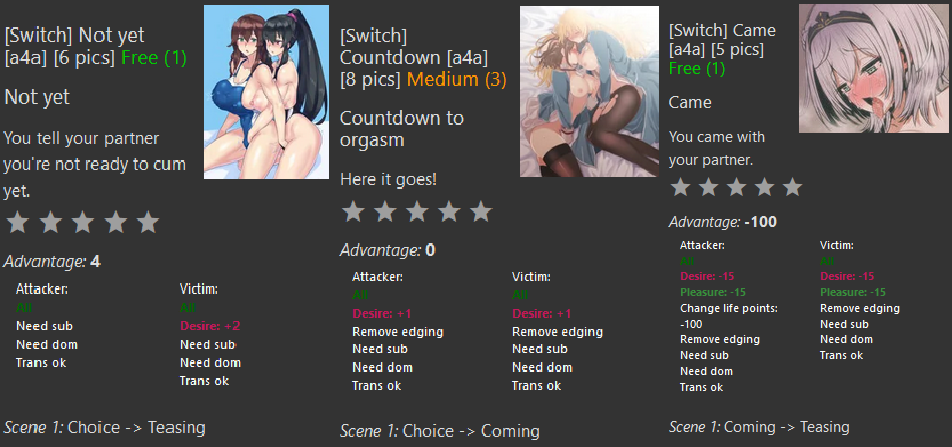 Not much to say about those. The first one is a "No", so it brings you back to Teasing, and the second one is a "Yes", so it brings you to Coming, and then the "[Switch] Came" action puts you at 0 HP and brings you back to Teasing.
Special Actions
• Game Overs and Timeout are a bit special:
• Game Over actions give each player 20XP, and add 1 to desire and pleasure (I've had an issue happen where the winner having 0 of each would break the game)
• Timeout actions set the scene to Teasing, so that players can Replay or Continue.
This should allow you to make actions more easily and maybe make the maintainers' job easier. Hope it helps!