Americas Regional '22 - Round 1
EroFights is in the grips of yet another tournament, hot on the heels of EroPets comes the Americas Regional! This is a tournament that pits the best the Americas has to offer in a sexfight for supremacy!
At the time of writing, three matches have already been played, with one team already elminated - with at least three more on the way. But first, let's run you through the basics...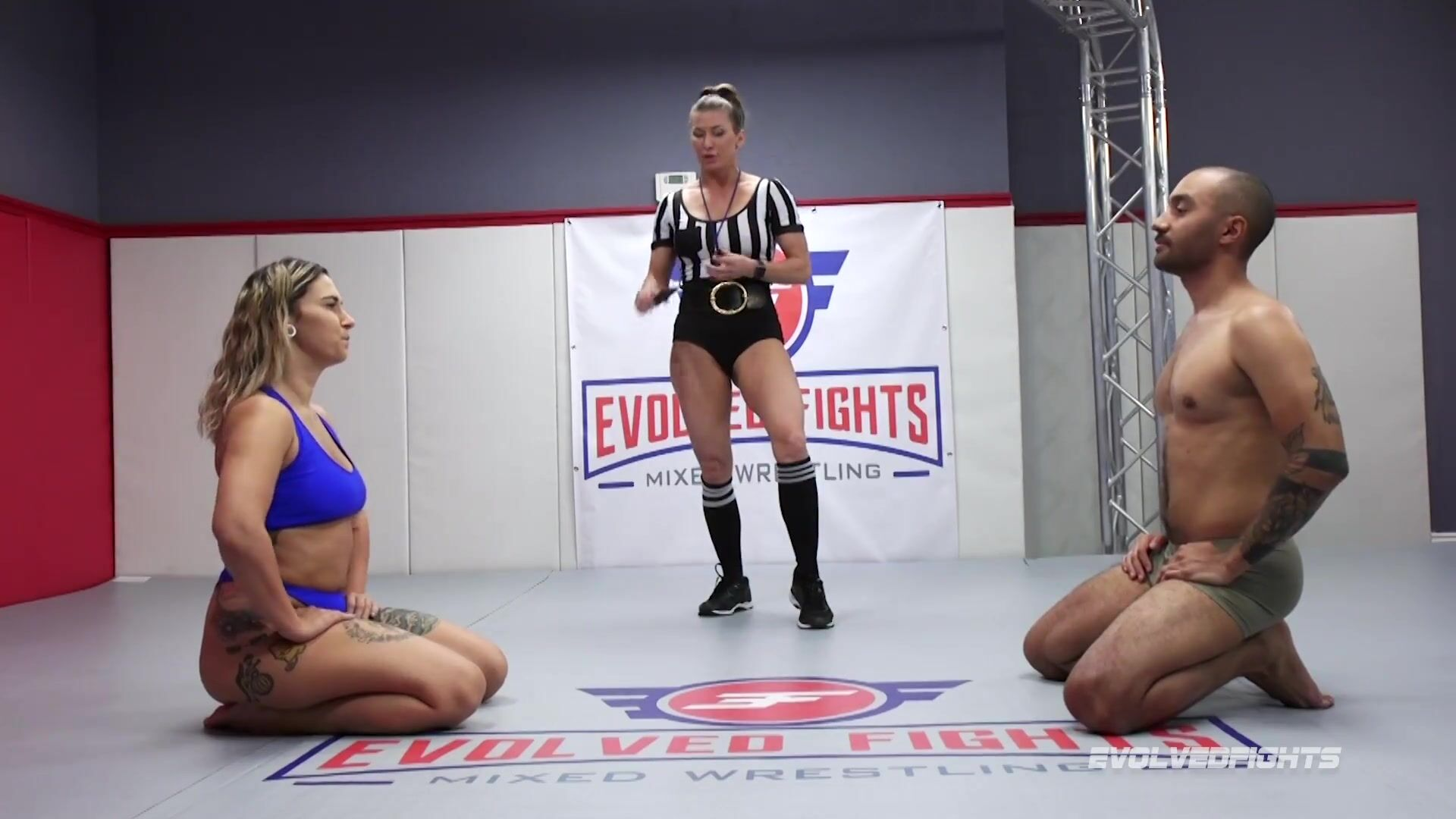 There are 16 players, divided into 8 mixed pairs.
They will be paired off against another team in 2 matches of Classic.
If score is tied, a Hentai match between the winners will be held.
Team with most wins advances to the next round.
Champions are awarded 1oo EF coins and 'Champion of the Americas' badge.
The losers of Round 1 and 2 are offered the chance to be in the Jobber's Cup.
Champions and J. Cup winner qualifies for December Sexfight Invitational.
So, what is the Jobber's Cup?
The Jobber's Cup is essentially what we found worked well in the EroPets Tournament: a humiliation-based tournament with losers accruing various penalties and lost bets.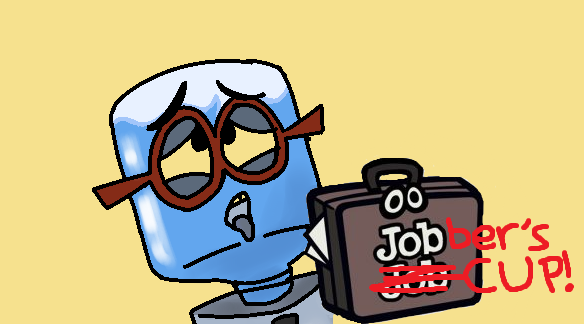 Aforementioned losers of the Tournament may opt-in for the Jobber's Cup.
It's a round-robin tournament with no teams, every player plays each other.
A bet must be agreed upon before a match occurs.
Any mode is acceptable.
Winner gets 2 points, loser gets 0.
-1 for every match left unplayed at the end of the main tournament.
Winner qualifies for the December Sexfight Invitational
All other losers will be sold to the auction.
Wait, an auction?
Oh yeah... We have those now.... An extension again of EroPets' match-betting event, we have decided that an auction will take place after the tournament! Here's the rundown:
Losers of the Jobber's Cup will be sold at auction.
The 'buyers' will be comprised of people who participated in match-betting.
'Bankrupt' betters will also be sold at the auction.
Buyers will bid for these 'slaves'.
Limits will be stated, but otherwise the slave must obey their buyer.
Slaves remain so until the end of the European Regionals.
European Regional Tournament starts in July.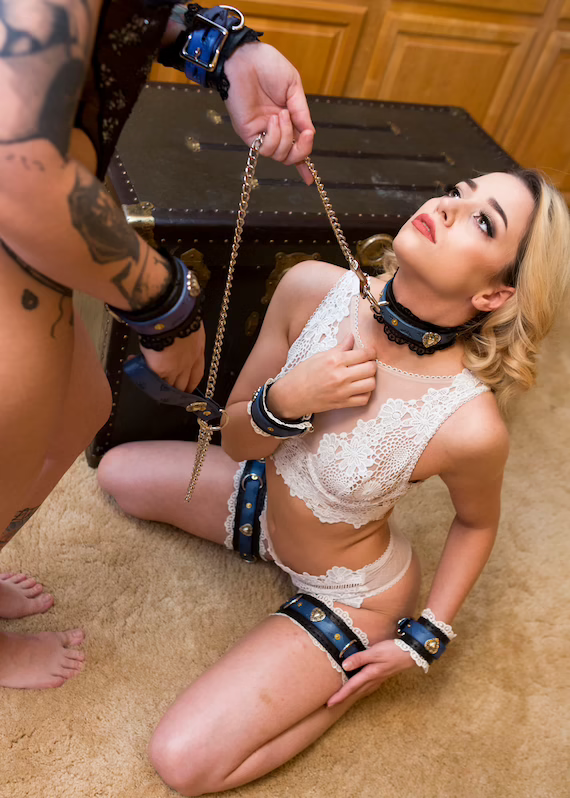 Wew, that's a lot, isn't it? This year's tournament has a bit more going on than the previous one, and we're all hoping it'll turn out for the best! This all remains to be seen, of course - but let's roll back to basics and talk about the matches of Round 1!
Round 1
Ruckus & Lust VS John G & Andromeda Sterling
Climber & Diana Adams VS Jayjay & Armaris
Leon & Kendra VS DanDan & Sexy Swift
Betajon & Poc VS Michael & Tanya
We have a perfect blend of veterans and newbies in there, so without further ado, let's start with our first match report!
The show kicks off with some fun as Leon shows off his abs by teasingly pulling up his shirt, only for Swift to pull it off of him entirely. Following suit, he pulls her top and bra down, quickly leaving them both shirtless. Slowly kissing and caressing each other as they work to identify weak points, Swift mounts his face and rides his mouth for a bit as things start to get heated. He returns the favour by shoving two fingers inside of her, only to pull them out and make her taste her juices. Sliding up a gear, they both lose their underwear and Swift licks his balls, whislt she has his cock in her mouth.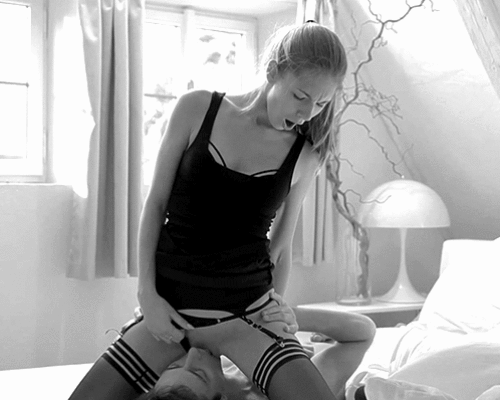 Eager to seize the lead, Leon puts her on a table and slides into her, fucking her hard and making her moan. She kicks off her shoes and gets oiled up, which just makes him fuck harder, pounding as deep as he can go. Slipping off his dick, she grabs his dick and puts it in her ass and starts riding, only for Leon to roll them over and push her down in a true battle for sexual dominance. Not taking that, Swift changes tactics as she forces him to lick her pussy. He breaks off and continues fucking her, trying and failing to make her cum. Rather than resting, she immediately tries to get him off with her feet but he's not yet ready to blow!
In an effort to overwhelm her, Leon brings in an audience member to tag team her, filling her up twice as her ass is fucked and her pussy is licked. She takes it all in stride and gets him down to squat on his dick and ride it hard, seeking his orgasm. Despite loving every second, Leon holds back and once more has her double-teamed, with both cocks stretching her ass this time. Unable to hold back this pleasure, she cums on their cocks hard!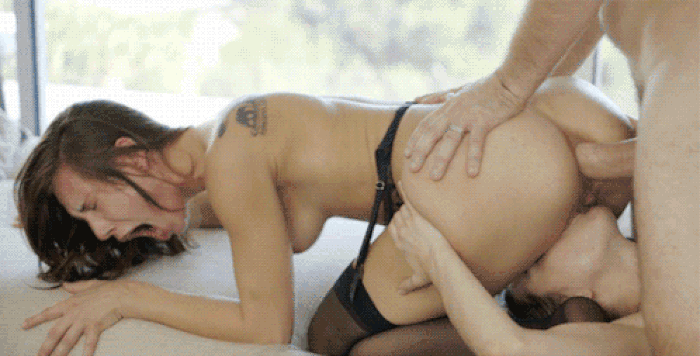 Taking a brief moment to masturbate herself ready for more, she glares at him and assures that he'll get his. He instead helps himself as he fucks her pussy again, pounding and making her tits bounce in rhythm. With having just cum, she's more than able to keep an orgasm at bay. She turns the tables and keeps the pleasure and pressure on him, naughty talking as she takes his cock, grinding all over it as she bounces. Perhaps she hit a sweet spot, as he erupts inside her, cumming hard in and on her pussy.
Both taking a much needed breather, she tries to keep momentum by grabbing his dick and pumping it in a fast handjob. He resists the pump and slides into her ass, naughty talking just as good as Swift did previously as they fuck rough. Not enough to break her, she breaks free and takes a dominant position, riding his cock as she keeps him down. He also resists and rocks her world from below, before pulling out and licking her pussy in a frenzy. Once more, she resists but they are both nearing the edge and you can feel the sexual energy in the room. Giving it all he's got, Leon pins her down and fucks her harder, determined to break her. And break her he does as he pounds her pussy until she surrenders her orgasm, cumming her brains out on his dick!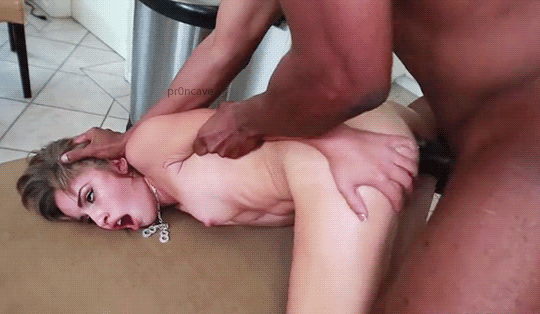 Claiming his first victory, Leon celebrates and takes in the adoration of the crowd. A fantastic game, well played by both competitors. In the future, we will see if his tournament partner, Kendra, can bring the fire just as much as he did. See the entirety of this fight right here.
---
Ruckus engages his opponent in a kiss in the middle of the ring as he pulls her pants down and admires her ass at the same time. She teases him with her clothed pussy in response, before locking together in a deep and passionate kiss. Things get steamier as Ruck puts a collar around her neck, making her blush like crazy as she kisses him harder. Enjoying each other, he has her take off his pants and boxers, freeing his now hard cock for her to take in. A smile forms on her flushed face upon the sight of it, before she takes it in her hand and strokes him, changing the pace at random to keep him guessing.
As she jerks him, he moves along her body and slides her panties down slowly, once more enjoying the view of her magnificent ass. As she kisses him wildly once more, he tears her top off to feel her skin on his, making her moan with desire. The tempo picks up as he rubs her clit with the palm of his hand, making her pussy wet and aching for more. She pulls away, humping the nearest pillow, as if lost in a sea of arousal. But the collar lets Ruck easily pull her back close, which in turn lets her stroke his cock again as she takes off her bra. The sight of her breasts makes him pump his cock into her hand, then suddenly he regains composure and splash water on his face. Andromeda knows how much he wants her and teases and taunts him with her body, slowly spreading her legs and touching herself before him. Unable to resist, he dives to her and slides into her wet pussy and starts fucking her hard.
Loving every second, Andromeda quickly snaps out of the haze and pulls away, wrapping her tits around his cock, sliding them up and down his shaft. Needing more, he pushes her down and fucks her again, controlling the pace and making her body bounce with each thrust. The moans and sounds of intense fucking fill the room and she flips the situation as she takes top control, riding him hard. Pushing past the pleasure, he fucks her from under until they break apart and take a moment. As they recover, she pounces and rides him again, whispering the naughty things she knows he loves to try and take his orgasm. Once more, he resists and counters by binding her with tape, teasing her pussy whilst she can't retaliate. Yet she still manages to get free enough to give him a blowjob and try once more to break him. By a superhuman feat, he holds back his orgasm. But she won't let up, deepthroating his throbbing cock as she looks up into his eyes. There's only so much one can take and this pushed Ruckus over the limit as he cums down her throat.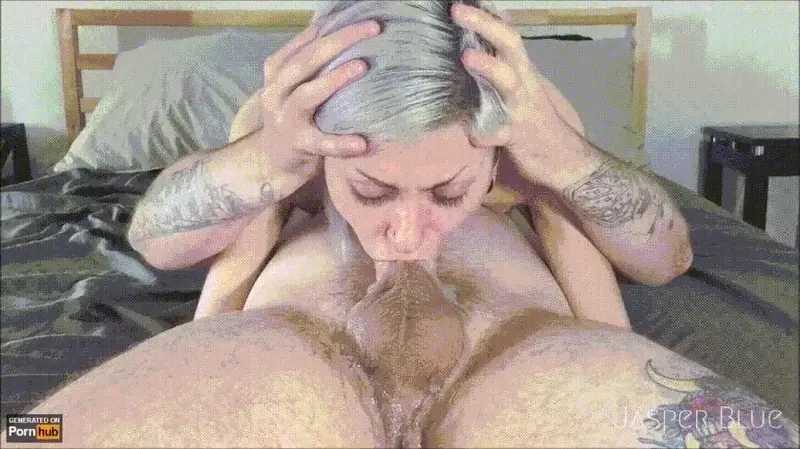 Taking every drop, Andromeda scores the lead but has little time to celebrate as he grabs her and fucks her from behind, whispering in her ear. She fights him off and takes a moment as she teases him with her legs. He doesn't take the same pause as he finger fucks her wildly, making her body shake once again. She moans and cries out his name, yet still manages to resist his attempt. Taking his cock into her tits, she feels desire rage as she wants his cock inside her again, fighting to maintain control. With a nod off to the side, preparations are made and he straps her to a sybian and turns it on. Feeling it the second the vibrating starts, she cums a whole bunch of times, squirting all over the sybian as she screams in ecstasy.
Feeling the need to be inside her, Ruckus pulls her off the sybian enough to expose her pussy, then leans her into it so the machine kept vibrating against her clit and tits. Holding her in place, he slides inside of her once more, fucking her like a sex slave, pushing her against the vibrating sybian as she takes his cock, unable to summon the strength to fight back. All her vitality drained from the immense orgasms she endured, she gets overwhelmed by the sensations and cums for the last time in this match.
Cumming inside her as his prize, he takes remarkably good care of her as he claims victory for himself and his partner, advancing to the next stage of the tournament. This was an intense bout, I advise you to read it all. Right here.
---
Next on the cards, it's Kendra vs DanDan
Announcing to all that he's here to win, Dan takes Kendra by the neck and kisses her against the wall, getting us off to a strong start. She pulls his pants down to see what he's packing, then he returns the favour by sliding her panties off. Suddenly, as if by magic, she has him bound and starts milking his dick. Literally, if you blinked, you'd of missed it. As he gets free and has her show off her tits, she starts stroking his hard cock whilst touching herself, claiming to enjoy her toys. The fight for dominance started hard early on, with Kendra taking the lead. With that in mind, Dan tries a couple of attempts at brainwashing her to suck cock. Seemingly unphased, she makes him put on a pink skirt, somehow without anyone noticing until it was actually on. There's witchcraft afoot here, I'm sure of it!
Trying to compose himself, Dan pulls her panties off to expose her gorgeous pussy, which only leads to him using his face as a seat, making him taste her pussy. Almost lost in her, he snaps out of that and teases her boobs whilst she removes his shirt. He quickly binds her to make her admire his abs from bondage... but she escapes quickly and shows off her deepthroat skills. He takes off his pants and skirt, then is suddenly slapped in the face with a strap-on. He pays her back in kind with his real cock, then suffers pleasure as she grinds all over him in a full body massage. Turning up the heat, Kendra starts fucking his cock, leading to Dan calling in a friend from the audience to help fuck her. She finds his fleshlight and aggressively jerks him off with it, then takes his hard cock up against a window. So many different positions, so little time. He brings in some female help but when they fail to make her cum, they turn on him and assjob his throbbing cock. Then, a double betrayal happens and the friend goes back to helping Dan fuck Kendra. She takes it all and doubles down as she edges him with her pussy, then rides him reverse cowgirl. The pleasure rocks his world and he cums inside her pussy, pleasing Kendra as she takes the first orgasm.
The victory is short-lived as he fucks her hard in front of a mirror and makes her cum on his cock, making her shake as the scores quickly even out again. Dan takes a couple of shower breaks to cool off, then lets the lady have a seat on his face whilst he continues resting. Then the lady friend returns and gangs up on him. Had he not cooled down, it might have made him burst. But he gains control and once more, the friend and Dan fuck Kendra for her troubles. They both cool off again, with him masturbating as he watches her. Taking advantage, Kendra wraps her tits around his cock and titfucks him fast. Completely taken aback and still worked up from his own stroking, the surprise pushes him over the edge and he cums in her mouth.
Defeated, DanDan is picked up and hugged by Kendra, giving him congratulations on a match well fought. She proved too much for him but put up a valiant effort, so hats off to the good man, I say. See it all unfold right here.
With Kendra progressing forward, we now wait with bated breath for the next series of fights to take place. Come back here for all the juicy details!