Farewell, valiant competitors...
Another update on the Halloween tournament from me, WOOHOO!!!
The group stage has come to an end, and as a result we have to say a fond farewell to many of the participants. Let's have a look at the final standings in the groups, and see what the next week will hold for us.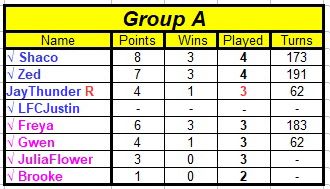 Moving on from Group A we have Shaco and Freya - both with very respectable records at 3-1 and 3-0 respectively. Impressively Shaco is also one of the few people to have achieved a perfect victory, so major kudos to him!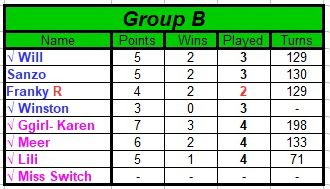 The qualifiers from Group B are myself (pats self on back) and GGirl - Karen. I just about squeezed through with the narrowest of margins - I won my games only one game faster than Sanzo, but just enough to ensure my progression in the tournament.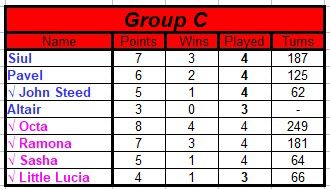 The two victors in Group C are Siul and Octa! Unfortunately Octa has had to retire, so in her place will be Ramona. Both of these competitors have very impressive 3-1 records, and will truly be tough opponents for whoever they are matched against in the next round.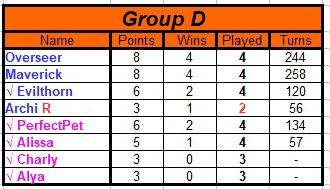 Group D - So much drama on the boys' side! Two players with perfect records, Overseer only beating out Maverick by slightly quicker victories. Very very well done to the both of them! From the girls, PerfectPet squeaks through with a 2-2 record (this is still quite impressive given how well the boys performed in this group however).
---
What is next? Well the knockout rounds! Over the next week the best of the best from the group stages will be fighting for their tournament lives in 4 games you won't want to be missing. The lineups are:
Siul vs PerfectPet
Overseer vs Anna
Will vs Freya
Shaco vs Ramona
We wish everyone the best of luck (myself the most of all, naturally) and look forward to the spectacles these matches are sure to be!
---
And now, it wouldn't be an update post from me without some exciting logs for you to check out, so here they are!
1) Shaco vs Brooke 2-0 https://www.erofights.com/game_histories/185594/read_logs
The first 2-0 victory - what more can be said? Very well played to Shaco
2) Alya vs Overseer 1-2 https://www.erofights.com/game_histories/185501/read_logs
A great match, made even more exciting by the presence of the GOTH title!
3) Pavel vs Lucia 2-1 https://www.erofights.com/game_histories/184676/read_logs
Neither of these fighters are moving on with the competition, but still a really great read - well played to both of you!
---
That's it for now - look for my next post once all the quarter final matches have been played and we narrow down our list of competitors once more. It is sure to be an exciting week in the world of EroFights!